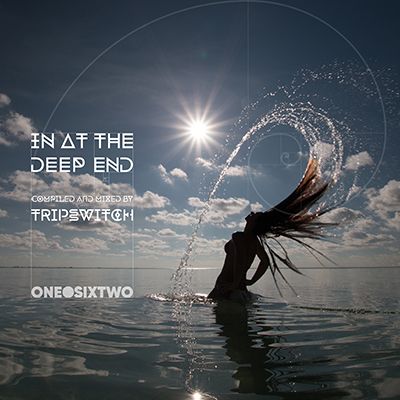 Various Artists - In At The Deep End mixed by Tripswitch
Nick Brennan's Tripswitch journey through electronic music continues unabated as he celebrates his 16th year as a renowned DJ/Producer with the launch of his brand new onedotsixtwo label and his first mix comp, a stylish summer affair featuring no less than 23 exclusive tracks that join the dots perfectly between past, present and future.
Last year saw this musical chameleon explore a fresh direction with his critically acclaimed 'Vagabond' (Iboga) artist album, having previously establishing himself as one of the world's premium chillout producers. This elegant and refined collection of deeply delicious, impeccably produced progressive house, brimming with the musicality and emotion that has cemented Tripswitch's reputation over many years, led towards the idea of launching a highly focused new house music label to run alongside Nick's well established, eclectic, Section Records.
"Section started out with a mission to release whatever I was feeling at a point in time, regardless of genre, and over the years we've released an across-the-board selection – from ambient to progressive house, dub to trance, drum & bass to downtempo… It's been fun to have that freedom, and Section will continue to be a bit eclectic and leftfield, but I've reached a point where I feel it's right to separate out the house music and create a label that specifically serves the way that type of music is consumed." – Nick Tripswitch
Reflecting this duality running through his career and music – having first become recognised for his chillout music before returning to his first love of proper progressive house – Nick knew that his first compilation had to be impeccable and stylistically split into two distinct parts. Pulling together all these exclusive tracks took a whopping two years of planning, and it's gone through several identity changes in that time to perfectly exhibit his uncanny skill for storytelling.
"As it turns out, 'In At The Deep End' has become the perfect vessel to introduce the world to onedotsixtwo, which is launching with this release. The album forms a bridge between my long-established Section Records label, and what listeners can expect to hear in the coming months and years on this new imprint." – Nick Tripswitch
Nick has populated the album with tracks from old and new friends, collaborators from the worlds of chillout, house and progressive trance, carefully selecting artists that he respects and knows will bring something unique to the party.
"If you know my music, you'll know I love to step beyond what's expected, and several of the producers here have delivered tracks in genres they're not normally known for – Seb Dhajje and Interaxxis writing stunning chillout, and Bwoy De Bhajan taking his music in a progressive direction for Part 2, are perfect examples." – Nick Tripswitch
The supremely eclectic 'Part 1' selection commences with the ambient vibes of Gnomes Of Kush, one of the guises from the fertile mind of Tony D'Oporto, who has been at the forefront of West Coast American and Mexican electronic music culture since the early 90's and looks after the stateside end of Nick's eclectic label Section Records from his base in Seattle. 'No.10', a sneak preview of what is to come from forthcoming artist albums courtesy of the mysterious new Section-signed Fear Of Ghosts, flows into the mellow percussive mid-tempo beauty of Sea Raven (aka new Russian artist Marat Matao) and the similarly delightful 'Autumn Feelings' from Argentinian duo Interaxxis (Emiliano Folgar and Martin Kazez), before dipping into sun-drenched Balearica with Mexican dub aficionado Earth Growl being remixed by Portuguese trip-hop masters and Section Records alumni D-Echo Project (Roger Coelho and Valter Silva).
Continuing to join the dots across what is a thriving global eclectic electronic scene, the action moves north to Canada with the inclusion of some deep and experimental delights from Montréal's Klātu and Toronto's Section Records regular, Displacer, before leaping across to the South of France to meet the supremely talented Seb Dhajje. The first Tripswitch track, 'Kauri', is unveiled as a sophisticated broken-beat experiment, married with the chilled magnificence of Audioglider (whose Balearic masterpiece 'Subaquamarine' LP was a much-cherished musical highlight last summer), and more of the sublime filmic beauty exhibited by Xspance on his recent 'Melodyheart' album, before a perfect chilled 'Feel The Sunrise' finale from another enigmatic Russian artist – Saymon Skorogonov aka Seaman.
Whereas 'Part 1' excels at showcasing a stunning array of exclusive eclectic musicality from a global array of fine electronic artists championed by Nick's Section Records, 'Part 2' opens the door to an exciting new party that is beginning with the launch of the onedotsixtwo label project – focused on exploring and developing a more dancefloor-orientated, boundary-blurring, proper progressive ethos. Nick's impeccable selection and mixing skills highlight the musicality, melody and emotion that have cemented his reputation over many years.
From Denmark's Søren Thygesen's (aka Bwoy De Bhajan) truly uncanny talent for sound design, coupled with delicate touches in set-opener 'Antique Cicada'; through the percussive intrigue of Greek duo Kosmas & Dio S, moving seamlessly into recent Sudbeat stars, Dimitri Nakov & BVision's hip-swinging 'Tweaker', and on to Melbourne's hypnotic masters, Thankyou City, this immediately flags up onedotsixtwo as a top-class new label to watch. Reaching the halfway point with the magical 'Mantis' from Brazil-based UK ex-pat James Monro (co-founder of the now legendary Flying Rhino label back in 1995) shows how deep into the roots of the scene Nick's friendships go.
The party continues with the awesomely talented Jossie Telch showcasing his percussive genius and irrepressible energy with 'Secret' (created in his state-of-the-art studio in Mexico City), which Nick fuses perfectly with 'On Second Thought' by Portugal's Diogo Ribeiro (aka Buzo), before diving into an ocean of deepness via an exclusive Tripswitch collaboration with Danish mastering-engineer Martin Vice, created in the Iboga studio. The continent hopping continues with yet more melodic beauty, this time courtesy of one of Buenos Aires' fast-rising stars of the future, Axel Bray, aka Partenaire; before building to a spine-tingling finale that commences with the heart-wrenchingly beautiful 'Efficacy' from GMJ (aka DJ Gavin Martin from Melbourne, Australia), and closing perfectly with a third Tripswitch exclusive cut, the calming, melody-rich 'Sinking'.
Tripswitch Info:
https://twitter.com/nicktripswitch
https://soundcloud.com/tripswitch
https://www.facebook.com/nicktripswitch
https://www.friskyradio.com/show/harmonics
https://www.instagram.com/nicktripswitch
http://nickbrennan.info
onedotsixtwo Info:
http://onedotsixtwo.com
https://soundcloud.com/onedotsixtwo
https://www.facebook.com/onedotsixtwo
https://twitter.com/onedotsixtwo
Section Records Info:
http://www.sectionrecords.com
https://soundcloud.com/sectionrecords
https://www.facebook.com/sectionrecords
https://twitter.com/sectionrecords