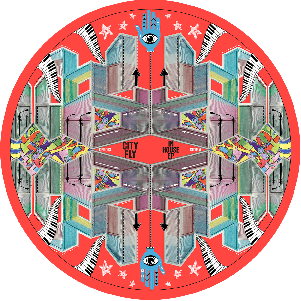 City Fly - In House EP
UK house imprint City Fly curate a package featuring its label founders plus some special guests.
The Leicester label has been championing quality house music since 2011, with the likes of Basic Soul Unit, Flori, Kez YM, Red Rack'Em, Creative Swing Alliance and Tim Toh all appearing on its discography. However, on this occasion the latest wax features the talent of the home team with each track coming from the City Fly crew themselves, honing in on the imprint's trademark sound of deep, authentic and uncompromising house music.
The release opens with a laidback groover titled 'Henry Western', a collab between Jonna & Samwell featuring the unstoppable Lady Blacktronika. It's a heads down, no nonsense affair with moody chords underpinning mournful vocals that ooze with soul. Next up is the smooth, loopy disco of Last Trip to Gandahar's 'R136a1' – a classic cut that even Soundstream himself would be proud of.
Moving on, 'Without You' by Darran P balances silky Rhodes with melancholic vocals, until J'Shez's remix of Flori's 'Holloway' concludes the release in mesmerising fashion.
City Fly 'In House' EP drops on City Fly Records on 7th March 2016.
Tracklist
Jonna & Samwell – Henry Western (feat. Lady Blacktronika)
The Last Trip to Gandahar – R136a1
Darran P – Without You
Flori – Holloway (J'Shez Intergalactic Road Remix)
https://www.facebook.com/CityFly
https://twitter.com/cityflymusic
https://soundcloud.com/stream