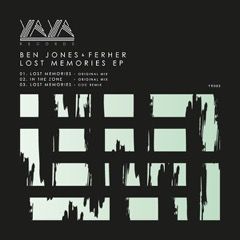 Ben Jones, Ferher - In The Zone
YAYA Records unleash its third EP and comes from collaborators, Ben Jones & Ferher, two successful producers in their own right who came together earlier in the year for the bouncing, 'Deeper Things'.
Here, the pair combines for two originals and get the remix treatment from tech house talent, CDC. Leading the pack is 'Lost Memories', which delivers captivating drums, tense ambiance, and perfectly attuned drops and fills.
Rolling a little deeper with 'In The Zone', they pit clattering, tribalistic percussion and untamed hat-work above a thundering, zonal bassline for a proper rugged tech affair.
Rounding off the package is CDC's hypnotic, peak-time refix of 'Lost Memories'. The duo shifts the focus onto a refreshed bassline progression, building a chunking groove that's then deconstructed by a mutating synth hook at the breakdowns. It's both powerful and trips!
Buying link:
https://www.beatport.com/release/lost-memories-ep/2094448