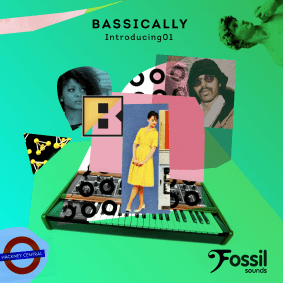 Bassically - Introducing 01
Award winning, multi-platinum producer and composer Raz Olsher presents a new EP from his live house collective Bassically released on his label Fossil Sounds. There will be a live concert to launch the EP at Fossil Studios on Friday March 2nd 2018.
Introducing 01 is the first of six EPs to be released on the label this year. Each EP showcases the diverse sounds of this exciting new collective of producers, musicians and singers.
Bassically are known for crafting sophisticated house and techno with live instrumentation. Taking cues from Detroit, Berlin and London, ever-evolving grooves have been released with labels including Noir Music and Black Butter Records. With support from legendary aficionados, such as Kerri Chandler and Mathew Herbert, this acclaimed and energetic outfit is bringing musicality back to dance music.
The first track 'All Fuckin' Night', features a sample from the classic RBMA interview with Detroit legend Moodyman. With wompy bass and jazzy ethereal synths the off- kilter house track is one designed for late nights and intimate clubs.
'Deep Down' has more of a rolling Chicago vibe, a lively and jacking cut with slick synth stabs, twisting and turning above rumbling bass. It's one to pick things up in the club and get people moving.
The EP ends with 'Same Again' an atmospheric vocal track with live beats and organic blips. With a warm and cozy feel and a real human heart, this one tumbles down low and takes you all the way with it.
This is a fresh and charismatic package that oozes perfect house vibes.
Tracklist:
1. All Fuckin' Night (Original Mix)
2. Deep Down (Original Mix)
3. Same Again (Original Mix)