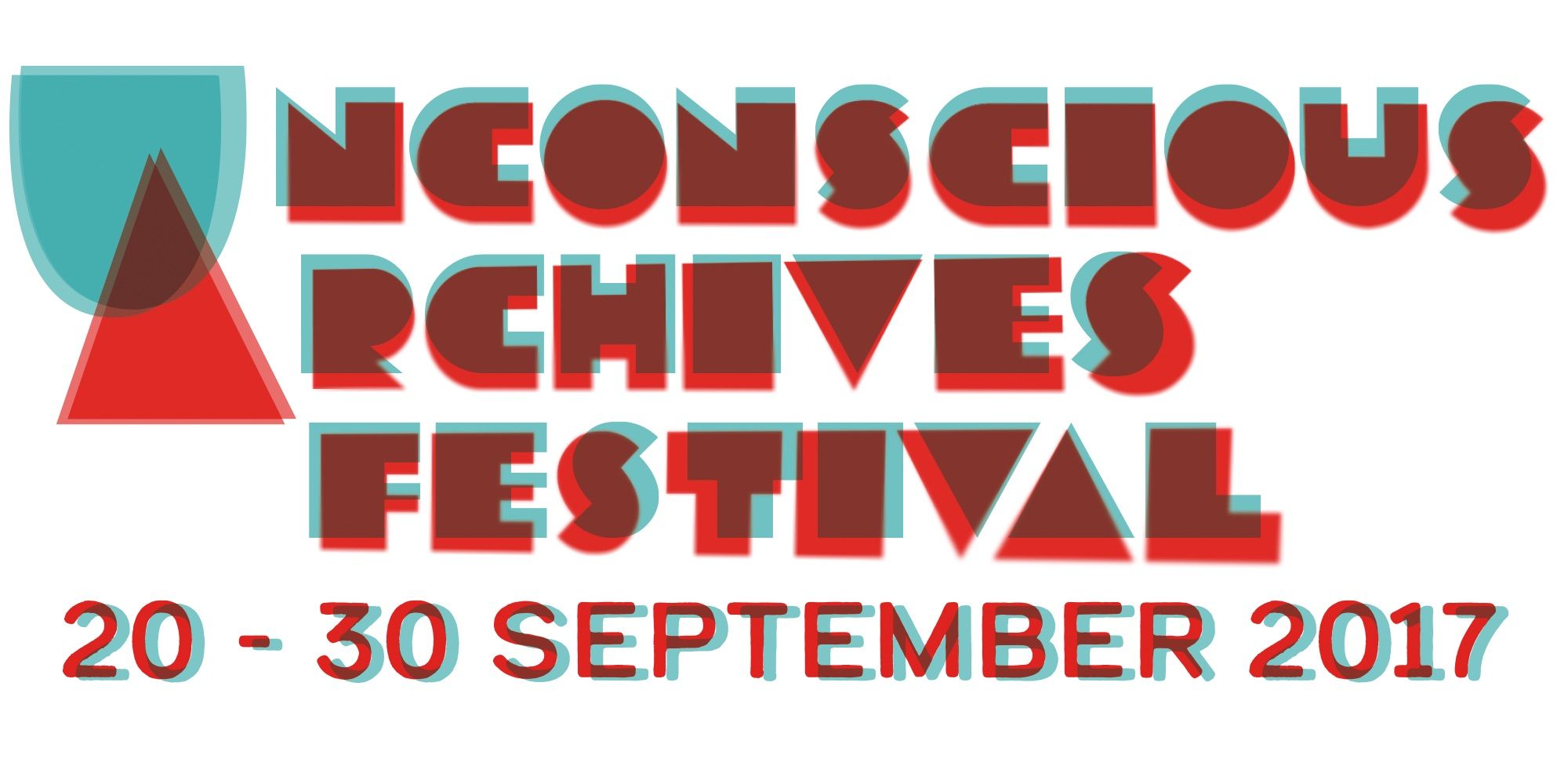 Introducing: UNCONSCIOUS ARCHIVES FESTIVAL
London's Unconscious Archives announce first full festival outing across 3 events and an exhibition, with an expansive programme of music, film and art featuring thirty international artists and four revered venues.
UNCONSCIOUS ARCHIVES FESTIVAL
Various venues | London
20th – 30th September 2017
TICKETS : https://ua2017.unconscious-archives.org/tickets
Since launching back in 2011, London's Unconscious Archives have established themselves as leaders in London's leftfield arts and music circles, welcoming over 70 artists across 25 events. Now set to take things to the next level, UA can announce a brand new offering, 'Unconscious Archives Festival,' set between 20th – 30th September 2017 over four unique shows. Exploring the relationship between sound, art, and performance.
Four unique events make up the first Unconscious Archives Festival, from experimental live film events at Shoreditch's intimate Close-Up Film Centre, to electronic explorations focused on the hand built and coded at beloved South London club Corsica Studios, it's an expansive programme in place across the ten days, brought to you by UA founder; artist-curator Sally Golding.
Breakout artists merge with established names from the noise / art circuits to allow for discovery, with a large focus on the boundaries of audience / performer interaction and DIY music culture. UA2017 also features a special focus on the Austrian experimental music and art scene, operating in partnership with the Austrian Cultural Forum London.
COMPOSITIONAL CONSTRUCTS, CAFE OTO, SUN 24TH SEPTEMBER
A live event showcasing the vibrant systems of artist made technology and performance interventions. Headlined by composer, digital artist and performer Myriam Bleau, creator of audiovisual systems and performance-specific musical interfaces. Myriam presents Soft Revolvers, a light and sound composition for 4 spinning tops – a tactile new instrument strongly evoking turntables and DJ culture. Also playing will be Dutch artist, Mariska de Groot, intrigued by the phenomena of optical sound, Mariska makes and performs analogue, light-to-sound instruments and installations. London native Leafcutter John also plays, referred by Time Out as 'one of the UK's most fearlessly inventive electronicists,' and compared to alongside Aphex Twin and Bogdan Raczynski.
Finally, it's Austria's Dawid Liftinger, performing 'Sound and Light' – a highly concentrated audiovisual performance which harnesses the frequencies of fluorescent tubes through a digital interface of software, Arduino and circuit relays.
More info : https://ua2017.unconscious-archives.org/compositional-constructs
HAPTIC SOMATIC, CORSICA STUDIO, THURS 28TH SEPTEMBER
The most electronic-music led event, Haptic Somatic is an enlivened club night concept featuring artists working with music as medium, mixing live performance, noise, light compositions, and club music. It's the heaviest bill of the series. Also the album launch for Ziúr (Planet Mu), Corsica Studios sees a headline show from the Berlin artist, fusing sonic textures and brainy beats into a functional dancefloor framework intended for loud systems. Broken techno comes from Yaxu, who uses his own handmade programming language TidalCycles based on a technique called 'live coding' for which he has been widely recognised. Also not to be missed are Polish artist and Oram Award winner Ewa Justka, a self taught instrument builder and electronics teacher, and Tara Pattenden aka Phantom Chips, the Australian born noise-performer who makes wearable synthesizers, then invites the audience to stretch and squeeze to create sound. Spatial is an electronic musician and multimedia artist, whose work pushes the dynamics of sound system culture incorporating low frequency vibration, hacked code, and optisonic experiments, then there's improvisation artist Laurie Tompkins, an immersive LED light composition by Swedish composer /sound artist Marta Forsberg, and Vienna's Billy Roisz & dieb13 as their duo RISC. DJ sets come from NTS Radio affiliate Chloe Frieda (Alien Jams) and Tristan Bath Spool's Out on Resonance FM and The Quietus).
More info : https://ua2017.unconscious-archives.org/haptic-somatic
NARRATIVIZE, CLOSE-UP FILM CENTRE, SAT 30TH SEPTEMBER
An evening of live film, digital art and performative actions exploring de/construction of narrative, also with artist Q&As. Revered paracinema researcher / artist Esperanza Collado will present a new work made specifically for the venue, along with Austrian media artist, musician, software programmer and poet Jörg Piringer, who'll perform the complex work 'abcdefghijklmnopqrstuvwxyz', a live audiovisual and sound poetry performance.
Also up on the Narrativize bill is respected London film figure James Holcombe, in collaboration with renowned improv trio Secluded Bronte, consisting of Jonathan Bohman, Adam Bohman and Richard Thomas joining with a formation of dubious instruments and accidental comic mishaps.
Hannah Catherine Jones aka Foxy Moron rounds off, a London-based artist, researcher, radio presenter, composer and conductor, and founder of Peckham Chamber Orchestra.
More info : https://ua2017.unconscious-archives.org/narrativize
EMOTION + THE TECH(NO)BODY, AUSTRIAN CULTURAL FORUM LONDON
PREVIEW WEDS 20TH SEPTEMBER
EXHIBITION CONTINUES 21 SEPTEMBER – 17 NOVEMBER
An exhibition and events programme featuring work by Austrian and international artists working across sound art, experimental film, software programming, laboratory culture, sculpture, ephemeral art, instrument building, and post internet art. Artists exhibited include Audrey Samson, Benedict Drew, Stephen Cornford, Graham Dunning, Christine Schörkhuber, Ulla Rauter, Reni Hofmüller and more.
More info: https://ua2017.unconscious-archives.org/emotion-and-the-tech-no-body
Various venues | London
20th – 30th September 2017
SUPPORTED BY:
ARTS COUNCIL ENGLAND
AUSTRIAN CULTURAL FORUM LONDON
AUSTRIAN FEDERAL CHANCELLERY
MEDIA PARTNERS:
THE WIRE
THE QUIETUS
RESONANCE FM