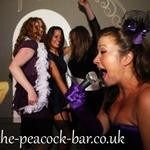 "It's a Party burlesque cabaret 70s 80s night"
SATURDAYS -"It's a Party" 8pm-2.30am (Open from 12pm, 2 for 1 cocktails till 8pm) …..
On Saturdays from 8pm-2am we bring you "It's a Party" a club night with a twist combining burlesque shows early with retro 80/90s/00s Djs after to create a truly memorable night .
We begin the performances from 9pm with two great burlesque & cabaret shows – anything from Sinatra to Tranny's (see the list of performers below) – and we always include a lot of audience participation!. If you have not been to a burlesque or cabaret club before and are worried it's not going to be your thing don't fret you can still enjoy the great bar vibe during the shows and the Djs after (although we find almost everyone is bowled over by the shows anyway) and we only ever take volunteers from the audience!
After the shows from 10.30ish its disco and dancing with our very own Eastenders celebrity DJ Dave DiskoJuice spinning 80s, 90s, 00s tunes with a bit of funky house thrown in too until carriages at 2.30am. All aided by tacky original 70s/ 80s visuals and rubbish cheapo lighting.
Oh and just so you know Dave DiskoJuice has taken to giving lucky customers signed copies of Hello magazine but if you want to make requests you now have to go through his agent 14 days in advance (very helpful Dave) . That's of course when's he' s not boring you with stories of all the celebrities he now knows!
Entry Complimentary all night (guest list for guaranteed entry) – book your guest list or reserved area online from our Bookings Page. But do come early as the shows commence at 9pm on the dot and our prima donnas don't like to be kept waiting! DJs and dancing after from 10.30pm ish till carriages at 2.30am