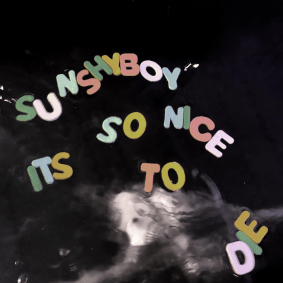 Sun Shy Boy - It's So Nice To Die EP
Freeride Millenium welcome multi-faceted artist Emile Lagarde aka Sun Shy Boy for a new six track EP that finds him digging deep into his own psyche to serve up a heartbroken ode to loss and loneliness.
An art school graduate who lives in Amsterdam, poet, performance artist and writer Lagarde often questions his own reality after suffering the trauma of losing his father at a young age. He has formally studied choreography and is fascinated by lofi vs hifi sounds, releasing his music on Soulfeeder and his own platforms as well as playing clubs around Europe. This new EP features music made over the last two years while he reflected on the loss of his father. "It has been deeply therapeutic" he says, and bar one guest spot was written, performed and sung by him and him alone.
Moving opener 'Let's Go Back' is sombre, downbeat pop music with dark over tones. The artist's pained voice is at the center of the heavy atmosphere and encourages you to wallow. The title track is more upbeat than the name suggests, with happy-go-lucky beats, catchy hooks and his heavenly vocals bringing a sense of hope. The brilliant late night moods of 'I'm Not Against U' come via filtered vocals with watery synths and broken beats that are innocent and pure, while the superb 'This Book is About Me' slips into a tortured hip hop vibe with wonky synths and fuzzy vocals musing on apathy and isolation.
The airy vocals of guest Jessica Matheson lend the excellent 'My Only Way' a feeling of purity before filters drag them into a more brooding form. The sad piano chords all around are perfectly melancholic and lastly 'In The Club' is built on stripped back broken beats and cold hits. It gets you in a dreamlike state and sums up the detached, insular mood of the whole EP perfectly.
This is a coherent and complete collection of very personal songs that mix up pop, r&b, hip hop and lofi into something utterly unique & compelling. Artwork comes once again from the label's artist & designer Daniel Rajcsanyi.
Tracklist:
1. Let's Go Back
2. It's So Nice To Die
3. I'm Not Against U
4. This Book Is About Me
5. My Only Way
6. In The Club