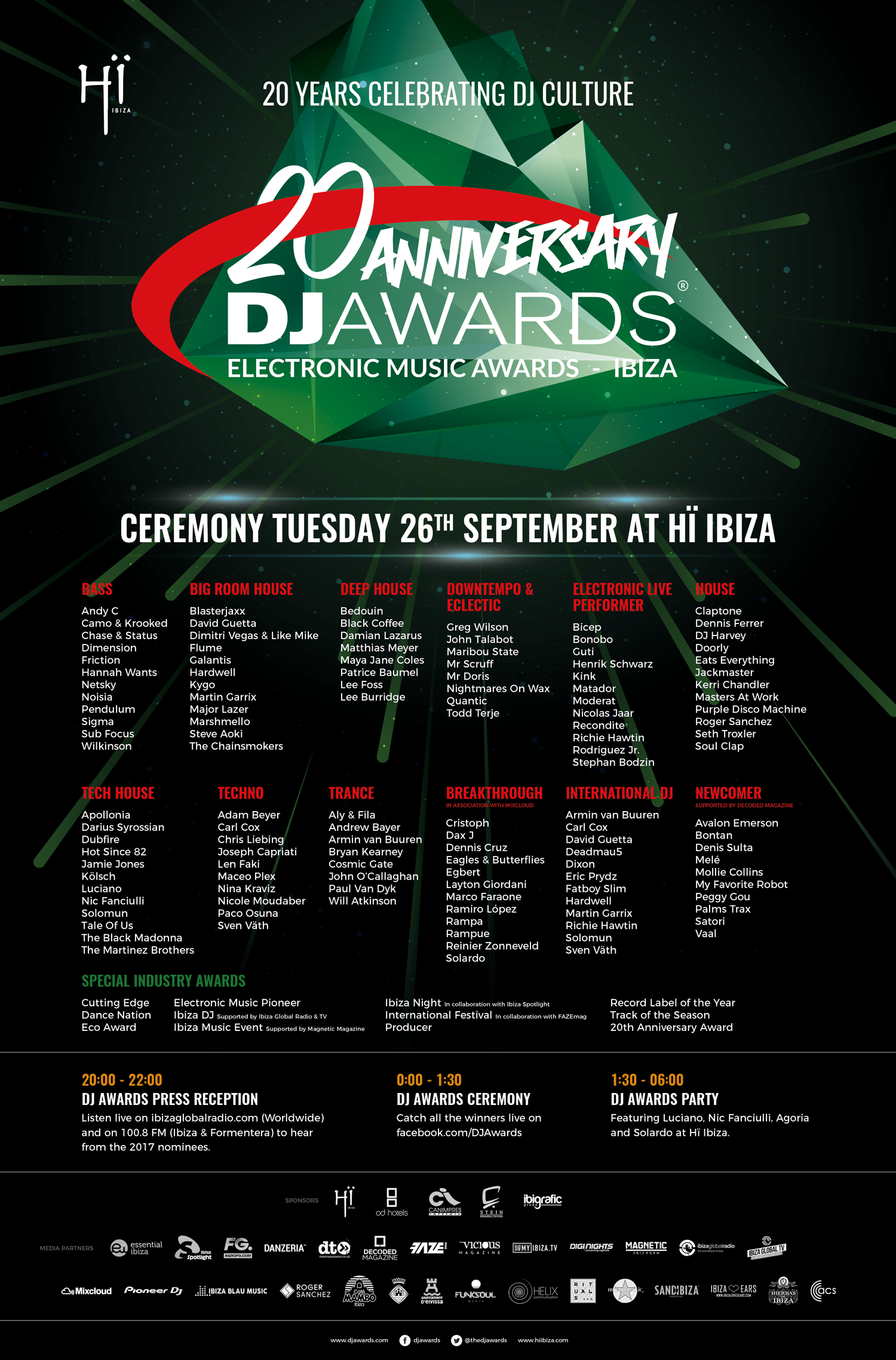 It's time for DJ Awards!
Everything is ready for the annual DJ Awards ceremony, which this year celebrates its twentieth edition on a new stage, at the most talked about new venue to hit the island this year, HÏ Ibiza.
Celebrating 19 years of award winning artists, this year we will continue to honour the DJs and the electronic music industry who have stood out during 2017. This end of season reunion, is always a good excuse to get together and enjoy our final time together under one roof before everyone goes off onto the winter projects.
The doors of HÏ Ibiza will open at 22:30h. to welcome invited guests with some champagne and nibbles. Entertainment during the cocktail hour will be from the electronic music artist Henry Saiz with his Live Band, followed by the awards ceremony.
DJ Awards will be presenting in this special 20th Anniversary, awards representing the different musical genres, these music category winners were chosen by public vote, whilst the other Special Industry Awards were decided by a panel of electronic music professionals.
The gala will be hosted by presenters Des Paul and Lucy Horobin.
Des Paul has spent a career working in radio, television and the music industry at the highest levels including over 10 years at the world-famous Capital FM in London, hosting a range of shows including Capital's Dance Anthems, before heading up the music programming team at MTV Networks, chairing the weekly playlist meetings and personally programming MTV Dance. He then joined Ministry of Sound, to look after their radio and television brands and played for Ministry of Sound and Hed Kandi all over the world, but the unique spirit of Ibiza and its relationship with dance music, keeps drawing him back to the White Isle every year.
2017 sees Des hosting the DJ Awards for the 10th time and he cannot wait to get on stage with Lucy and hand out a fresh set of awards to a fresh set of winners.
Des is very excited about this very special edition and says: 'Being asked back to present the DJ Awards is nothing but a privilege for me, and what an honour to be part of the 20th-anniversary edition, which is a testament to how good this event is. See you at HÏ IBIZA!'
Lucy Horobin is back for her 5th year co-hosting the DJ Awards with Des Paul. A broadcaster, blogger, voiceover artist and DJ, Lucy is best known as one half of popular UK radio duo Jk and Lucy. As well as getting Londoners home every day on Heart London, they also have the nations biggest Saturday morning commercial radio show. You'll also find her on Heart TV and as the voice of Lifetime TV too. A lifelong music fanatic, Lucy has recently swapped the mic for the decks, teaching herself to DJ. Her first gig was on a rooftop bar in London, with views across the city, blasting out a classic Ibiza setlist.
Lucy Loves Ibiza, Herfavouriteplaces include the likes of Pikes Hotel, Hostal La Torre, La Paloma, Cala D'Hort and Ushuaia, but the list grows longer with each trip!
'I am beyond happy to be back hosting the DJ Awards again. I consider it a massive privilege to be asked, and it's always brilliant to reunite with Des and the awesome Awards team. I can't wait to be part of the first DJ Awards at Hï Ibiza, and am even more excited about the fact it's the 20th anniversary too. It's a fabulous celebration of the music that brings people together, what's not to love about that?' .
We'll see heavyweights together with the new breed of talent, in an global industry that growth each year. Find out who will the be the winners of the legendary Kryptonite LIVE
Following the ceremony, comes the time to party, with an exceptional line-up that includes Luciano, Solardo, Agoria and Nic Fanciulli who will be in charge of the musical soundtrack to keep us dancing all night long.
Tune into the Press Reception where you catch up with some of the 2017 nominees, plus guests on www.ibizaglobalradio.com , 100.8FM in Ibiza and Formentera, taking place, Tuesday 26th September from 20h.
Schedule:
20.00 – 22.00 – DJ Awards Press Reception in HÏ Ibiza (Industry Garden)
22.30 – 00.00 – Opening of doors/ Cocktail in Hï Ibiza with Henry Saiz & Band
00.00 – 01.30 – DJ Awards Ceremony 20 Anniversary in Hï Ibiza
01.30 – Close – Official DJ Awards Party – with Luciano, Solardo, Agoria and Nic Fanciulli