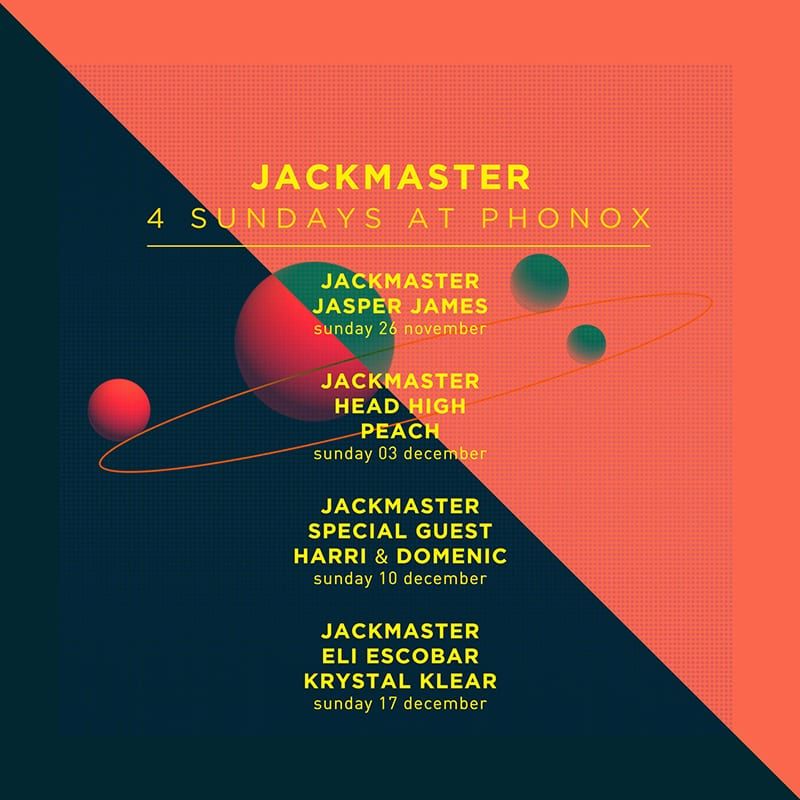 Jackmaster plays four consecutive Sundays at Phonox with special guests…
Sundays at Phonox, the South London clubs acclaimed daytime party has played host to some of the world's most revered DJs. Check: Gilles Peterson, Hunee, Skream, Helena Hauff, Midland, Four Tet, Floating Points. We start as we mean to proceed…
This winter, Numbers label head Jackmaster has been lined up for four consecutive Sundays at Phonox alongside some very special guests from Sunday 26th November to Sunday 17th December.
Transcending his Glaswegian roots, Jackmaster has becoming one of the world's most in demand selectors – it's a pleasure to have him front and centre for our very first sucession of Sundays, curated by a single DJ.
For the opening, we see the return of Phonox's former Saturday night resident, Jasper James. Well acquainted to playing the same booth, the pair bring out both the energy and eclecticity in one another – we can't wait to see what they bring to this Sunday session.
On Sunday 3rd December, Jackmaster welcomes farsighted techno tighten Head High aka Shed alongside newcomer and Radar Radio regular Peach.
For the third session, Sub Club residents Harri & Domenic join Jackmaster alongside a sublime selector soon to be announced on Sunday 10th December.
To close what is set to be an unforgettable string of Sunday parties, we see Eli Escobar and Krystal Klear beside Jack in the Phonox booth on December 17th.
Following three sold out parties at Phonox since its inception, Jackmaster's return has been highly anticipated – we can't wait to have him back.
Buy tickets here and check full lineups and dates below…
Sunday 26 November
JASPER JAMES
JACKMASTER
Sunday 03 December
HEAD HIGH
PEACH
JACKMASTER
Sunday 10 December
SPECIAL GUEST
HARRI & DOMENIC
JACKMASTER
Sunday 17 December
ELI ESCOBAR
KRYSTAL KLEAR
JACKMASTER