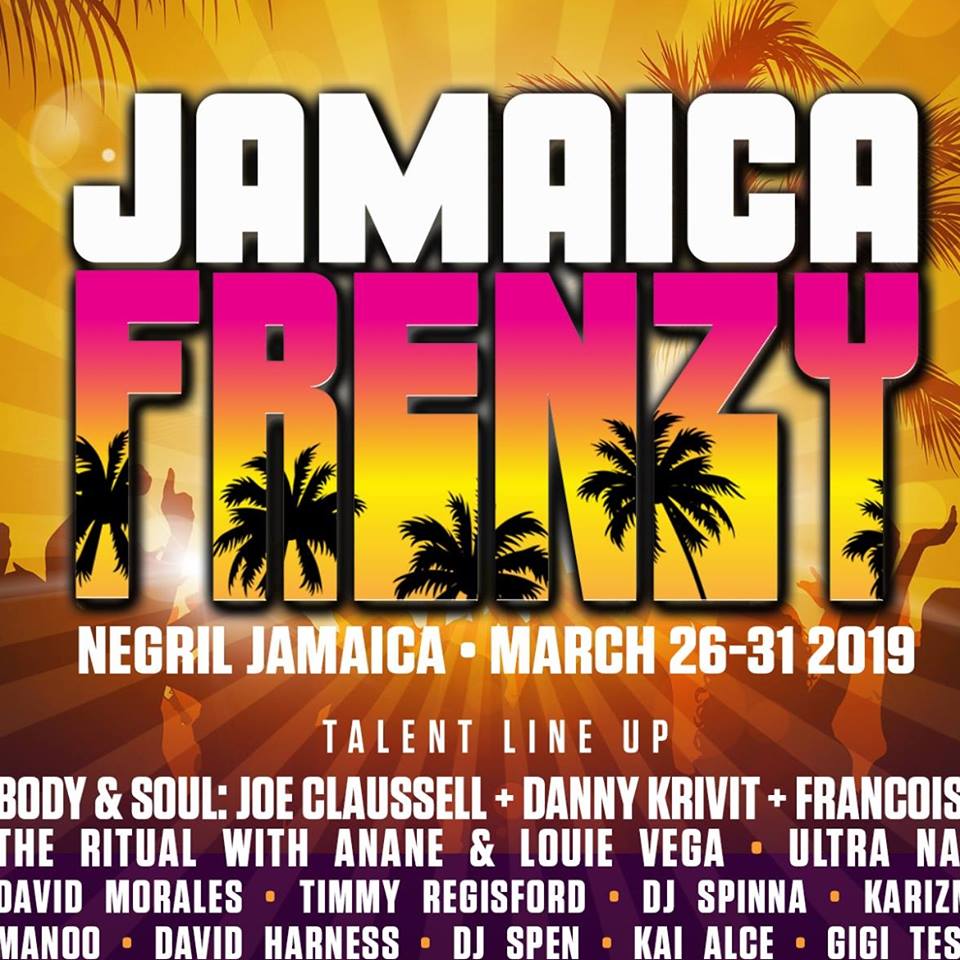 JAMAICA FRENZY Festival Announced…
Jamaica Frenzy is the exciting new House Music Festival for 2019 set to take place at the breathtaking resort of Negril in sunny Jamaica, brought to you by a collective of some of New York's top club promoters. Offering a unique 6 day all inclusive holiday experience between March 25-31st, Jamaica Frenzy will host some of the best dance music talent the world has to offer in Negril's magical paradise!
It is nearly impossible to put into words the natural beauty of Negril with its turquoise sea, 7 miles of powder white sandy beach that's bound by lush tropical foliage – the perfect setting to dance in sun or under the stars at the daily pool and beach parties Jamaica Frenzy have lined up. There will also be daily catamaran parties and excursions on offer for those who want to explore the treasures of the island, or you can simply kick back, relax and soak up the amazing laid back vibe of Negril.
"Jamaica Frenzy's vision is to create a clubbers paradise by bringing some of best DJ talent we know to a luxurious resort in the exotic setting of Jamaica. We want to create a 5 star feel-good festival experience and Negril has it all! We're so excited by the great response we've received from everybody so far – March can't come soon enough! " – DJ liL Ray (Founder)
"Jamaica Frenzy is destined to be the creme of the crop of dance festivals across the globe. An experience for the people, at a time when it's most needed!" – DJ Spinna
"Jamaica Frenzy…Finally, a breath of fresh air with a festival lineup that's giving soulful house music the place it deserves, and which so many people have been waiting for" – Francois K
ALL INCLUSIVE TICKETS
– This is an all inclusive event only and does not include flights.
– Prices per person start from $1,899.00
– Tickets include – all Inclusive accommodation :: gourmet dining and premium cocktails :: airport transfers :: admission and round trip transportation to all parties.
– There are a choice of 2 luxurious all inclusive accommodation resorts for the festival, including the family-friendly Royalton Spa & Resort and the liberating 'clothing optional' resort of Hedonism II.
– For more information on resorts and how to book please visit http://www.jamaicafrenzy.com
– For all booking enquiries please contact [email protected]
JAMAICA FRENZY
Negril, Jamaica
March 25-31 2019
http://www.jamaicafrenzy.com
https://www.facebook.com/jamaicafrenzy