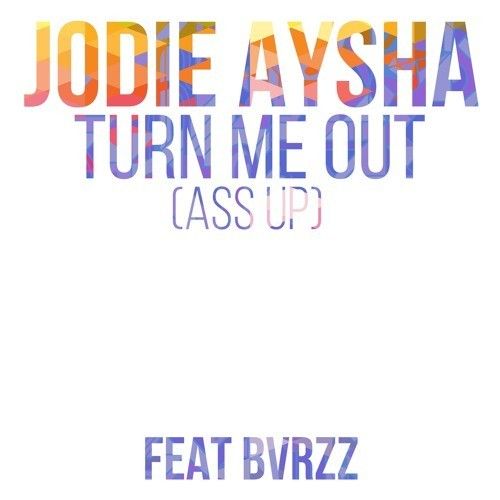 Jodie Aysha - Jodie Aysha – Turn Me Out
The UK was lit up in 2007 when Jodie Aysha's unforgettable vocal on 'Heartbroken' broke through the underground after years of circulation on the UK Garage and Bassline circuits. Already one of the benchmark releases for a long spell before commercial release – the early hearings blew up in the Garage world and put Jodie in front of a global audience once the rest of the world caught up. 1.5 million UK sales and a U.S Billboard Dance Chart top 10 slot later and the release was cemented into electronic music history forever. Regarded as one of the definitive breakthrough tracks of an era – Jodie's name was etched amongst the legends that launched the sound of the streets into a global phenomenon.
Flash forward to 2015 and the ever-relentless artistic outpouring remains at full throttle with the announcement of Jodie's summer 2015 jam 'Turn Me Out' – a sultry blend of Jodie's distinct vocals and BVRZZ's plush production. Veering into the bass-infused regions of House with Jodie's legendary formula for club and radio ready singles – it's another stellar addition to a catalogue of releases that transcend electronic music into the realm of international hits. With a distinct Ibiza flavour, uplifting keys and of course another infectious vocal hook – 'Turn Me Out' is set for a summer blaze from DJs across the board in the party capitals of the world. Produced to a towering level and bursting with sub-sonic kicks, deep and melodic bass and of course Jodie's prime vocals – it's looking like a hot summer.
With a lavish switched and chopped-up reprise from London-based House renegades Timetakers packaged with the original – there's more than one reason to get behind 'Turn Me Out' this summer. The Ministry of Sound, Spinnin' and Kontor regulars offer a typically thunderous rework that ties together the original with their own energetic and bespoke production methodology that's served them so well.
Seemingly an unstoppable creative talent – it's another hit in the bag for Jodie and with the pre-release hype-train ready to leave the station – we're all convinced that we'll be seeing 'Turn Me Out' received on an international stage.
'Turn Me Out' is lined up for release on 22nd August.