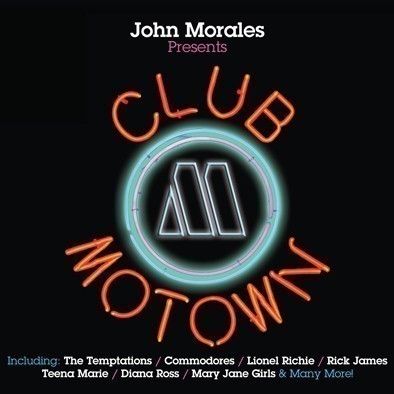 John Morales Presents CLUB MOTOWN
John Morales Presents Club Motown is a certified slice of dancefloor history; a dedication to the beginnings of DJ's and dance culture as we know it. These still-fresh, essential dance grooves continue to rock parties and inspire new generations.
This new release, available in distinct versions in both CD and vinyl formats, is the brainchild of John Morales, one-half of the feted M+M Mix team. Morales still holds his position as one of the most sought-after DJs and remixers around. He has dedicated his life to the dancefloor for the last four decades, having mixed, remixed and produced records for most of the artists in this collection, as well as such global stars as Aretha Franklin, The Rolling Stones, Marvin Gaye, Spandau Ballet, Miami Sound Machine, and more. Focussing on classics from the late 1970s and 1980s roster of the inimitable Motown movement, Club Motown is a life-affirming selection of classics and hidden gems in their full extended 12″ glory – many of which have been unavailable since their original release – plus five fresh, unreleased Morales mixes.
This collection is an aural delight, as these masterpieces have been given a deft re-mastering at Abbey Road Studios – ensuring the music sounds better than ever. The crystal-clear, full-frequency mixes are full of space, with the perfect balance of fat bass, warm mids and pristine-bright top end that puts the tinny, overdriven digital pop of today to shame.
Club Motown represents a golden era when club music synergised music genres in harmony with inspirational results. This was a period when pop was credible, containing elements of soul, boogie, funk and disco. It was genuine, heartfelt and delivered with musicianship. Plus most – importantly – it was joyous, hook-filled and catchy as hell. Among the great tracks on Club Motown, the dubbed-out brass of 'Standing On The Top' features the dream team of both Rick James and The Temptations, with a trumpet solo nodding to the latter's 'Papa Was A Rolling Stone'. Rick, on his own, delivers in its full extended 12″ magnificence the twisted genius of 'Super Freak', sounding sounds more freaky than ever. Rockwell's vocoder-laced paranoia tale 'Somebody's Watching Me' is one of the strangest and funkiest in soul music history, aided by a "special guest" on background vocals. A huge, elastic bass line rolls underneath 'Nightshift' – probably the warmest and most reassuring memorial ever committed to tape, here in its original 1984 "M+M" remix. Soaring strings meet Teena Marie's celestial vocals on the pure-joy-disco-boogie-monster, 'I Need Your Lovin", one of the new John Morales "M+M" mixes exclusive to this collection. Other new Morales mixes include dancefloor scorchers 'If You Should Ever Be Lonely', from Rick James' protégée Val Young, Diana Ross' epic 'The Boss' and Thelma Houston's funky 'Saturday Night Sunday Morning'.
"Without question John Morales is one of the top five mixers in dance history," says Terry Matthew of 5 Magazine, the influential house magazine from Chicago. "In music, particularly in underground music, the word 'legend' is thrown around to the point where it loses all meaning. What is a legend? It's someone who broke the mold – someone whose sounds, techniques, even his style changed things forever. It's a pioneer that everyone who followed after emulated, whether consciously or not. In dance music, the person you're talking about is John Morales."
John Morales presents Club Motown is released on 28th July and is preceded by John Morales Presents: Motown Divas, a double pack 12″ vinyl, which features highly-coveted previously unreleased mixes from Teena Marie and Tata Vega. The Teena Marie track was formerly released in edited form on a promotional flexidisc, which generated a huge amount of excitement within the Motown and dance community. There will also be a limited signed run of the vinyl package.
www.johnmoralesmix.com
A Motown/Universal Music Catalogue Release – Out Now on Double CD, Vinyl & Download.