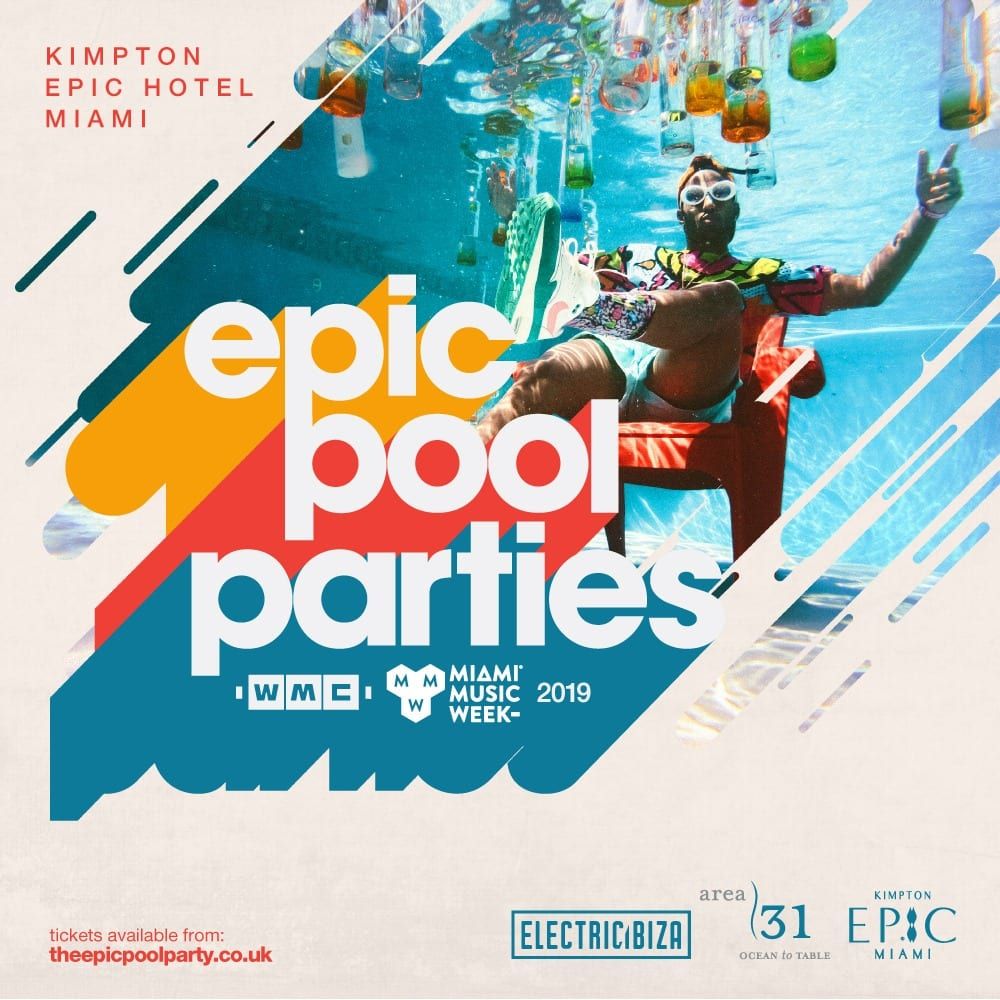 Jonathan Cowan Productions, LLC to partner with Electric Ibiza and Square One for six amazing Pool Parties
One of the biggest events on the dance music calendar, Winter Music Conference (WMC) in Miami, returns in 2019 with a renewed purpose and energy. The Conference will bring together the industry's biggest names, brands and parties, and for the first time, the team at Electric Ibiza will partner with Miami legend, Jonathan Cowan, Square One and WMC to host a run of six historic pool parties at The Kimpton EPIC Hotel in Miami.
The run of parties at The Kimpton EPIC Hotel will be hosted by six of dance music's elite DJs, brands and party crews; with the full programme to be announced soon, the first event on Tuesday March 26th is the official Miami Music Week opening party and will be kicking off what's sure to be an "Epic" week of poolside events. The party, which is free to WMC delegates will also be open to the public and runs from 5pm-11pm. Hosted by one of the most iconic brands in dance music, the sun-soaked opener will set the tone for the conference's rebrand and fresh approach for 2019.
"With so many successful years under my belt at legendary venues such as Groovejet and the infamous pool parties at the Shelborne, I'm excited to bring that standard of excellence back to WMC, this time at the Kimpton EPIC Hotel" – Jonathan Cowan
A member of the Shelborne hotel family dynasty, Jonathan Cowan is one of the WMC's most-loved figures with an incredible history of putting on the conference's centrepiece events in conjunction with brands like DJ Mag and Pioneer. After some time away from the event, he returns in 2019 with a landmark partnership with Electric Ibiza, whose own parties are a mainstay in Ibiza at venues such as Amnesia, Ibiza Rocks, Café Mambo, Pacha and the legendary Space Ibiza.
"It's been 6 years since we worked together with Jon at the Shelborne – our events back then were legendary, featuring some huge label and brand debuts with the world's biggest acts. It was these parties which inspired us to start Electric Ibiza and we've always tried to bring an element of what made those Miami parties so special to all our other events. So, with that, we're excited to finally return to the WMC after far too long to take on a different hotel in a different time. It's going to be one big reunion and we can't wait to see plenty of familiar faces bringing the craziness that made the original parties so memorable, as well as creating amazing experiences for the new generation of music lovers" – Electric Ibiza
With a distinct Balearic vibe being brought to Miami through this new partnership, The Epic Pool Parties are definitely "must attend" events for anyone in town for the 2019 Winter Music Conference.
FULL LINE-UP TO BE ANNOUCNED
Winter Music Conference 2019 – https://wintermusicconference.com/
Electric Ibiza – http://electricibiza.com/
Kimpton EPIC Miami – https://www.epichotel.com/