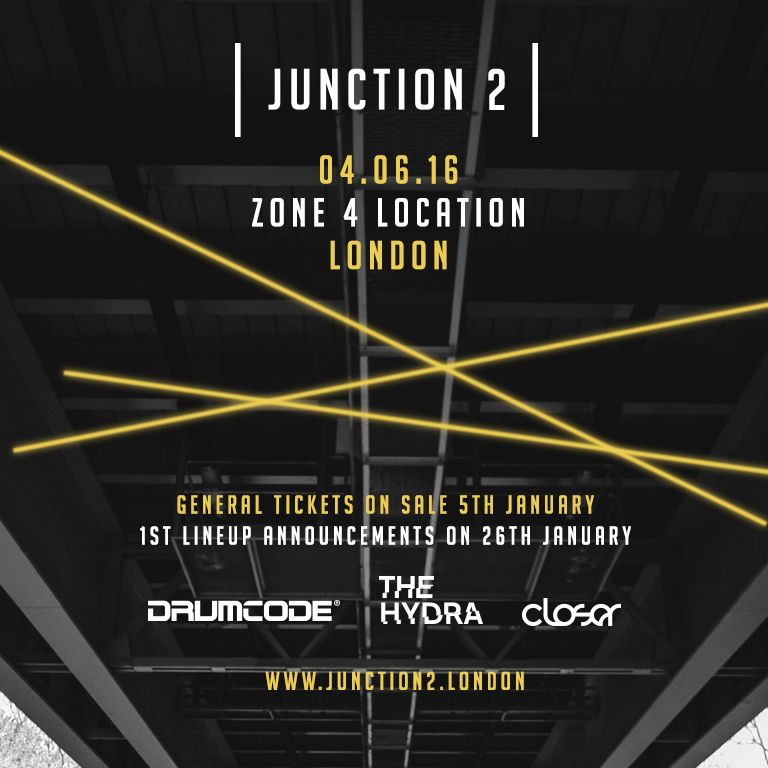 Junction 2 announce line-ups!
Following the announcement that LWE are to launch their debut festival Junction 2 on Saturday 4th June 2016, general release tickets are on sale now.
With presale tickets selling out in just under 48 hours, Junction 2 will be produced by event promoters LWE who are renowned for throwing parties in exciting locations across the capital that set themselves apart through their reputation for incredible production values and an astute attention to detail. Having held unique day parties at Wapping's Tobacco Dock for over three years now – most recently welcoming the likes of Seth Troxler's Acid Future, Drumcode, Fatboy Slim's Smile High club and their infamous NYD party – Junction 2 is the next chapter in their journey, and one that has been two years in the making.

The message is simple – great sound, high-end production, an attention to detail, extended sets, no VIP, no plastic tents, like-minded people and a music policy focused on techno. Having collaborated with three respected establishments; Drumcode, The Hydra and Closer – Junction 2 will be a celebration of their shared ethos and merges natural beauty, green fields, rambling rivers, woodland pathways and hidden enclaves that are all dominated by striking industrial features that make the site iconic.

General tickets are on sale now and the first line-up announcement will be on 26th January.
Event info:
Date: Saturday 4th June 2016
Location: Zone 4, London
Ticketing info: www.junction2.london