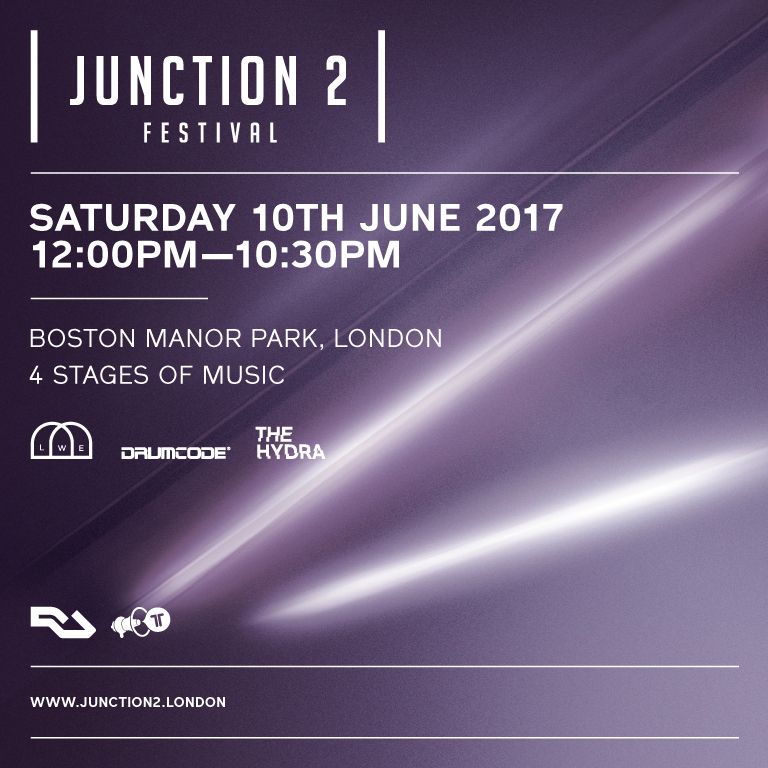 Junction 2 Festival Returns for 2017
Following an electrifying debut, cutting-edge festival – Junction 2 – announce the first details for their second edition, uniting the dream-team of electronic music luminaries with areas hosted by Drumcode and The Hydra, the custom-built LWE Warehouse plus new outdoor stage on Saturday 10th June 2017.
Showcasing leading lights of electronic music at London's most unique festival site, Junction 2's debut in June was hailed as one of the biggest success stories of the season, setting a new precedence for urban festival production and firmly making their mark on the city's party calendar.
Organisers, LWE, promise the same exceptional sound and production values, bespoke stages, attention to detail, hidden forest enclaves and delicious food and drinks in this amazing setting.
Tickets released to 2016 attendees have already sold out with early bird tickets released in the coming weeks. For tickets and information go to www.junction2.london
Junction 2 have released a film of their 2016 debut with BAFTA award-winning composer and sound designer, Alexander Parsons. Alexander fuses 'found sound' recorded from this year's festival and merges it with 4 tracks: 1. Sam Paganini – Satellite (Intro), 2. Enrico Sanguiliano – Dutch Kiss (Straight Mix), 3. Enrico Sanguiliano – Dutch Kiss (Inner Mix), 4. Enrico Sanguiliano – Ghetto Blaster.
Enraptured by the unique surrounding, Alexander was inspired to 'capture the divide between the real world and this enclosed capsule, in the shadow of the M4'
Junction 2 2016:
"When we first found the Junction 2 site last year, we sensed we were onto something special. And looking at that extraordinary space under the M4 and the parkland surrounding it, we just knew that an incredible crowd and heavyweight sound levels could create something truly amazing. We're still grinning from ear to ear – and even if our bank manager hasn't seen the funny side, we can't wait to make a start on the next chapter.
The only thing making us nervous about Junction 2 in 2017 is living up to the expectations set by 2016. We've been thinking hard about how to replicate that atmosphere and the overriding conclusion we came to was that magic ingredient was the crowd. Yes, you lovely people who trusted us, had faith and came and danced with us at Junction 2." – Festival Organisers LWE
ABOUT JUNCTION 2 IN 2016
"A festival that truly dared to be different" – MIXMAG
"such a success" – THE INDEPENDENT
"Junction 2 was something very special for London" – ADAM BEYER
"I couldn't have been more impressed" – ALAN FITZPATRICK
SIGN-UP FOR PRIORITY TICKETS & INFO:
www.junction2.london/2017signup
ABOUT JUNCTION 2
Junction 2 is an underground electronic music festival organised by LWE. The debut event took place on Saturday 4th June 2016 under the M4 motorway bridge at Boston Park Manor, West London. Three arenas were hosted by leading industry brands Drumcode, The Hydra and Closer with headline sets from Adam Beyer, Dixon, Alan Fitzpatrick, Nina Kraviz, Âme, Carl Craig, Mr. G, Move D and more…
EVENT LISTING INFO
EVENT NAME: JUNCTION 2 2017
VENUE: BOSTON MANOR PARK, TW8 9JX
DATE: SATURDAY 10TH JUNE 2017
DOORS: 12PM – 10.30PM / LAST ENTRY 8PM
MORE INFO
www.junction2.london
www.facebook.com/Junction2London
www.twitter.com/junction_2
www.instagram.com/junction_2