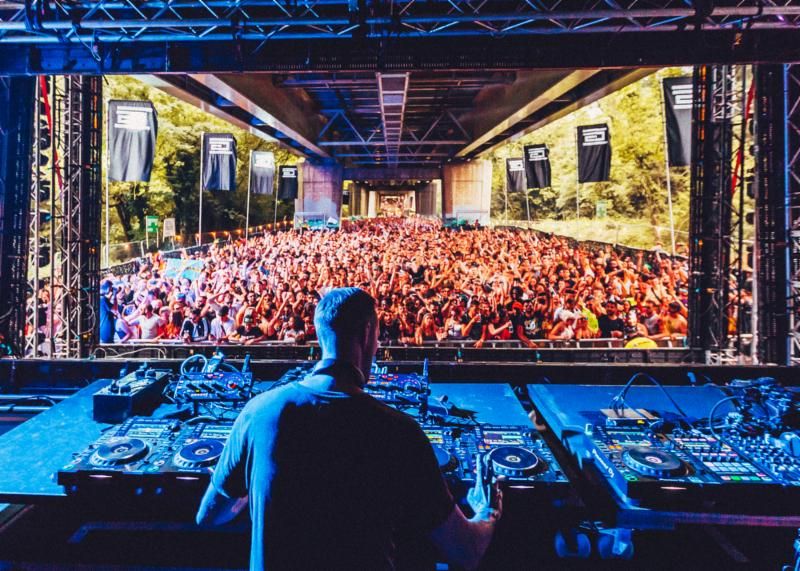 Junction 2 – Full Lineup Announced
As festival season begins to take shape, Junction 2 locks in the full, extensive lineup for its two-day debut on Friday 7th and Saturday 8th June 2019 at Boston Manor Park.
With the likes of previously announced Bicep, Craig Richards, Richie Hawtin and Daphni across the weekend, the festival continues its exploration of dance music's furthest corners with an unparalleled array of superb selectors and exciting debutants.
A Junction 2 mainstay, Dixon is guaranteed to deliver a masterclass in house and techno on Friday 7th June, drawn from his Innervisions imprint and beyond, while another man famed for his fiercely unique approach to DJing is Ricardo Villalobos, arguably the minimal genre's most recognisable figure and notorious for his mind-bending selections. He'll take the reins on the same day as Rush Hour boss Hunee, weaving rare disco, soul and house gems in the same breathtaking style that has taken him grooving across the globe.
World music connoisseur Gilles Peterson, electro icon DJ Stingray and the diverse offerings of Objektand Mumdance will also prove unmissable, alongside talent drafted in from Stateside, continental Europe and the farthest corners of the UK in the form of Fort Romeau, S_AS, Volvox, Carista and Batu.
The following day, on Saturday 8th June, wanderers of the afterlife Tale Of Us return to Boston Manor Park for the third time, promising to bring their otherworldly atmosphere and trademark melancholic soundscapes to proceedings. From J2 regulars to an overdue debutant, Loco Dice makes his bow with his bruising take on house and techno, undoubtedly proving why he has found long lasting favour amongst the masses.
The bill also features an acclaimed artist who embodies the new frontier and changing face of electronic music; Amelie Lens. As one of Belgium's most exciting talents, Amelie has gained a formidable reputation across the globe thanks to her Exhale parties.
Technological whizz Max Cooper, Drumcode mercenary Bart Skils and Afterlife alumni VAAL and Liverpudlian groover Lauren Lo Sung complete the bill, making this not only the biggest, but most comprehensive edition of Junction 2 to date.
Spanning five bespoke arenas of music, from the starkly industrial Bridge to the lush and leafy Woods, and paired with LWE uncompromising approach to organisation, high quality production and outstanding sound, Junction 2 offers an exceptional and unique experience for electronic music fans in London's festival calendar.
1st, 2nd and 3rd release tickets have already sold out. 4th release tickets are available for the Friday priced just £47.50 + BF and 5th release for the Saturday priced £55 +BF. Get yours here: www.junction2.london.

JUNCTION 2 FESTIVAL FULL LINEUP

FRIDAY (DJs A-Z):
BICEP
DANIEL AVERY
DAPHNI
DIXON
DJ KOZE
HUNEE
MOTOR CITY DRUM ENSEMBLE
RICARDO VILLALOBOS
BATU
BEN UFO
CALL SUPER
CARISTA
CRAIG RICHARDS
DJ STINGRAY
FORT ROMEAU
GILLES PETERSON
JEREMY UNDERGROUND
JOB JOBSE
MR G
MUMDANCE
OBJEKT
PEACH
RROXYMORE
S_AS (ADAM SHELTON & SUBB-AN)
SHANTI CELESTE
UMFANG
VOLVOX
SATURDAY (DJs A-Z):

ADAM BEYER
AMELIE LENS
APOLLONIA
JOSEPH CAPRIATI
LOCO DICE
MACEO PLEX
RICHIE HAWTIN
TALE OF US
BART SKILS
CRAIG RICHARDS
DAX J
ETAPP KYLE
IDA ENGBERG
IMOGEN
LAUREN LO SUNG
MAX COOPER
NICOLAS LUTZ
SAN PROPER
SONJA MOONEAR
TINI
VOIGTMANN
VAAL
ABOUT JUNCTION 2
Junction 2 is an underground electronic music festival organised by LWE. It merges natural beauty, green fields, rambling rivers, woodland pathways and hidden enclaves – all dominated by striking industrial features that make the site iconic.
Hosted at Boston Manor Park, under the M4 motorway, which dominates the site as one of five unique arenas which play host to the world's most in-demand electronic music artists. LWE's attention to detail is obvious across the site, with operational excellence, exceptional sound – the loudest in London.
Keeping the focus on quality music, the all-day dancefloor homage offers a vast spectrum of sonic textures.

MORE INFO
www.junction2.london
www.facebook.com/Junction2London
www.twitter.com/junction_2
www.instagram.com/junction_2