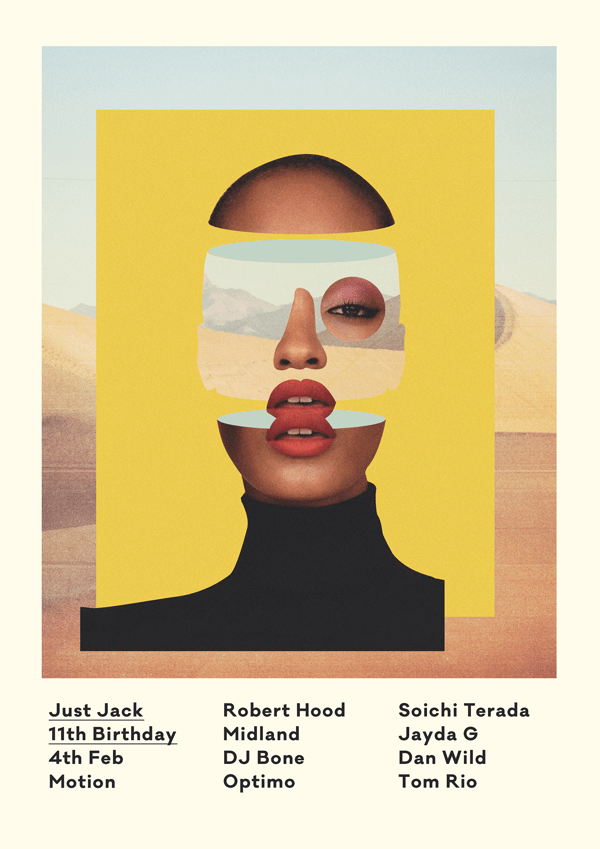 Just Jack 11th Birthday
Roll up roll up! Just Jack turns the ripe old age of 11. Rapidly approaching their teens and they're hungrier for it than ever.
Heading things up is one of the true originators. Now famously known for his FLOORPLAN project, ROBERT HOOD is one of the godfathers of techno. A founding member of UNDERGROUND RESISTANCE alongside Mike Banks and Jeff Mills, it's been JJ's dream to bring him to Bristol for a veeeeerry long time. Notoriously hard to book, but even more notorious for his ability to destroy a dancefloor, it's super exciting to have him for his JJ debut.
Joining him in the main room is the man with one of the coolest names in the biz. DJ BONE. This guy is a true champ of the underground. Also known for his excellent DJ DIFFER-ENT alias, this is another Detroit cat with weapons of mass destruction in his record bag. They genuinely had to sign an extra special Health & Safety waver for this one. Gonna get dangerous in the main room! His set at Bloc in 2016 was off the chain and so expect more of the same at the birthday blow-out.
Long time faves, OPTIMO are 2 dudes who are without doubt some of the finest selectors to ever grace the decks. Famed for their seminal Sub Club residency, these guys dig seriously deep and will no doubt, tear up the warehouse. Laying it down alongside them is another familiar face, MIDLAND. It's been 3 years since he last played for the Bristol squad and, in that time he's gone from strength to strength. Now easily one of the scene's brightest stars and one of the most exciting selectors, the JJ team are buzzing to have him back.
Finally, the Tunnel room. Often the sanctuary for the seasoned raver. Well good news. Just Jack have rustled up 2 of their favourite new comers for y'all. Or new returner in the case of SOICHI TERADA. Riding an almost unstoppable wave, this guy is the king of good vibes. His re-release album on Rush Hour was amongst their favourite LPs of the last 5 years and they are pretty confident his live show is gonna tear the roof of the intimate tunnel room. JAYDA G joins him, fresh of the back of killer releases for her label with Fettburger, FREAKOUT CULT, and for Vancouvers 1080P.
This is gonna be one helluva party peeps. Don't miss it.