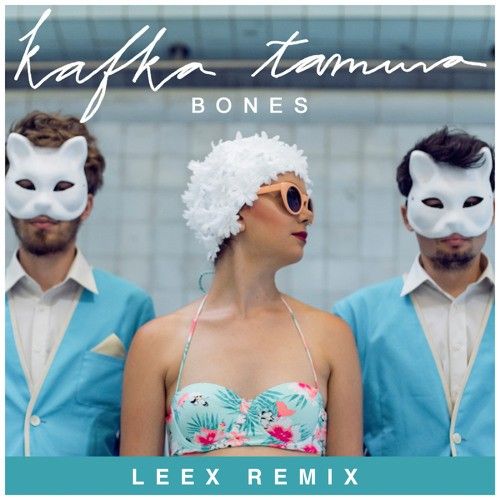 Kafka Tamura - Kafka Tamura – Bones (LEEX Remix)
Kafka Tamura will release debut album 'Nothing To Everyone' on 14th August through 100% Records.

Southampton trio Kafka Tamura's first release was a video last year for album track 'Somewhere Else' which had over 100,000 views on YouTube (https://www.youtube.com/watch?v=nSVGlO5m0jU) and was championed by Huw Stephens at Radio 1 and John Kennedy at XFM, where the record was playlisted and picked as Shock Of The New. Their next acclaimed video 'No Hope' was released at the beginning of this year and features 18-year old singer Emma Dawkins dressed as a modern day Marie Antoinette (https://www.youtube.com/watch?v=5i8M_qJdSwc). New track 'Bones' is taken from their forthcoming debut and can be heard here:

'Bones' is a seemingly playful song with a dark undertone, which questions the human condition:

"It's almost like being human isn't enough. We need more, life is fragile and we can't come to terms with it. The message in the chorus is that we're sick of being bones, wrapped around bones, and I think that's true.
Bones can break, they are delicate. We want more than we need, and I think that's the way it will always be." (Emma Dawkins)
Formed in 2012, when Patrick Bongers and Gabriel Hauser found the Southampton vocalist on Soundcloud, they named their band after the protagonist of the surrealist Japanese novel 'Kafka On The Shore', and use their minimalist sound to dramatic effect on debut 'Nothing To Everyone', with sparse beats, keyboards, guitars and Dawkins' sultry and soulful voice painting a mesmerising picture.

"'Nothing To Everyone' was meant to be a concept album from the very beginning. We wanted to create something that could be considered a piece of art and not just a collection of songs. So it was always like setting up rules and breaking them to find out what's the core of this music that we've had in our minds." (Patrick Bongers)

Minimalism was an important aspect of the album for the trio – not just in terms of sound but also musical material. All the songs are in the same key and all melodies are focused on a pentatonic scale – so the whole album is based on no more than six chords.

Kafka Tamura have cleverly created depth in their minimalism and 'Nothing To Everyone' is an arresting piece of work that will see them rise on the ones to watch lists.

Tracklisting:

1. Intro
2. Somewhere Else
3. No Hope
4. Bones
5. Feral Child
6. Lullabies
7. Bloodstains
8. Somewhere Else (Reprise)
9. Bruises
10. Nothing To Everyone
11. Liar

The band have just returned from a European tour with Milky Chance. UK dates will be announced soon.