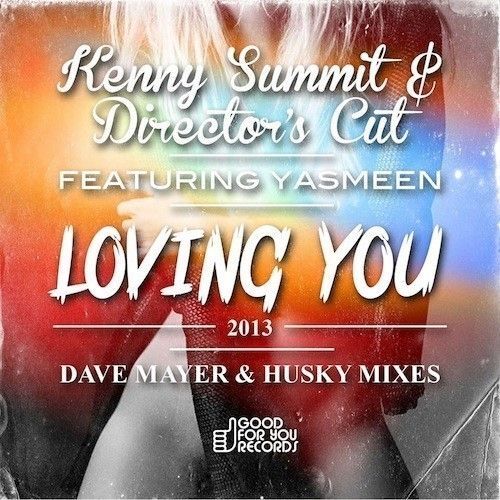 Kenny Summit & Director's Cut feat. Yasmeen – Loving You
'Loving You' from the dream team, Kenny Summit, Director's Cut & Yasmeem, was orginally unleashed last year on Good For You Records and soared all the way to Traxsource no. 1 and stayed there for a whole month! Back once again to cause mass destruction on this Summer's dance-floors, 'Loving You' gets a makeover from top DJ Producers Dave Mayer & Husky. Together the boys have turned out 2 tasty feel-good mixes; 1 armed with a deep 90's bass groove, bumping beats and warm Rhodes that bubble under Yasmeen's love-struck vocal; and a sparkling disco tinged chuggy dub mix, deemed to shoot this winner straight back up the charts!
Director's Cut are a production duo comprising of two of dance music's most influential producers – Frankie Knuckles and Eric Kupper. They first launched the project in 2011, signing to Nocturnal Groove, with the massive single 'I'll Take You There', which featured long time friend and vocalist Jamie Principle on vocals. They have since gone on to woo dance-floors worldwide with their electric productions and remixes, reigniting anthems such as Frankie's 'Your Love', 'The Whistle Song' and Sylvester's 'Mighty Real', to further magical new productions including 'Get Over U' ft B Slade and 'Let Yourself Go' with Sybil, among many others. Director's Cut consistently add warmth, feeling and class to anything they touch, creating distinctive sonic beauty that resonates our dance-floors and beyond.
From his early days spinning at NYC's infamous Limelight and Tunnel along side DJs like Moby, DJ Premier, Keoki, and Supa DJ Dimitry, to present day where he overseas the operations of his record label Good For You Records; Kenny Summit continues to focus on quality underground music. The releases on GFY along with his stable of artists speak for themselves: hiphop legends like Grand Puba and The Artifacts to house legends like Frankie Knuckles and Todd Terry, all present. In 2012 Kenny's reputation as a producer finally caught up with him as his 'Loving You' with Frankie Knuckles and Eric Kupper went to #1 on international house charts (and stayed there for over 2 months). Since then Kenny has released a string of underground goodies that have been embraced by house heads worldwide. Gearing up for a 20 city tour that spans from London to Bangkok in Fall of 2013, you can expect new tracks from Kenny Summit and his label every month.
Yasmeen Sulieman is an American singer who started out on Magic Johnson's record label, MCA Records in 2002 releasing her 'Blue Jeans' single. Her debut album, 'When Will It Be Me' was released in the Japan later that year. In July 2007, when Karla Mosley announced her departure of theband Hi-5, Yasmeen took over her place. In 2009, she signed with Strictly Rhythm/Defected Records and has recorded a few dance singles with various DJs including Copyright, DJ Gomi, Frankie Knuckles and Eric Kupper as Director's Cut and Kenny Summit, among others.
Dutch DJ / producer Dave Mayer has played alongside some of the biggest international DJ's including DJ Roog/Hardsoul, Derrick Carter, Junior Jack, Danny Marquez, Kid Creme and Random Soul (Yogi & Husky). His first production project, a remix of JJK's 'Primitive Future' on Soulfuric and he has since grown a reputation to deliver high quality remixes and tracks for labels like Strictly Rhythm, Soulfuric, OM Records, Hardsoul Pressings, Salted Music, Ultra, among others.
One of Australia's most promienet DJ/ producers, Husky, has a vast discography of productions and remixes on some of the worlds leading dance labels, such as Salted Music, Guesthouse, Shifted Music, Ultra, Interscope, Eight fifteen, Candy Music, Barcoda Recordings, Hermosa Recordings, Adaptation, Reelgroove , Bargrooves and more. He also is one half of the popular production duo Random Soul with partner Yogi.