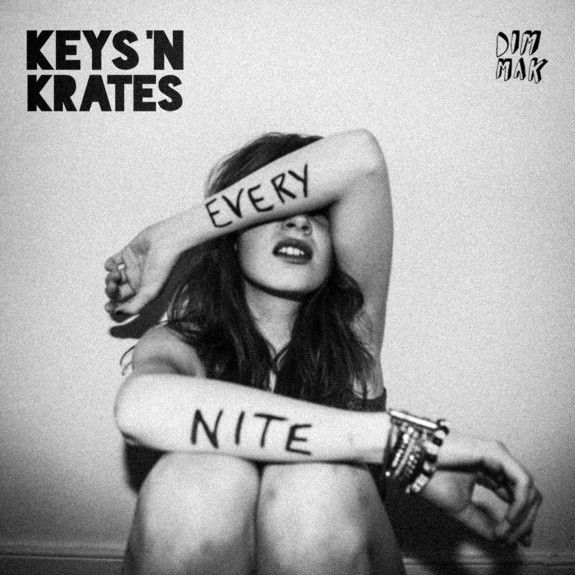 Keys N Krates – Every Nite EP
Tipped to be one of the hottest Trap releases of the year, and with many of its tracks already on heavy rotation in the sets of some of the world's biggest DJs, Keys N Krates' long awaited 'Every Nite' EP is now available on the internationally renowned Dim Mak Records.

Enjoying multiple spins on some of the biggest national radio stations worldwide, as well as a hugely positive reception from the online community, expectation levels could not be any higher. Currently in the midst of a massive North American tour alongside the hugely popular US duo Gladiator, Keys N Krates' boundary-pushing 'Every Nite EP' provides the perfect follow-up to the critically acclaimed 2013 'Solow' EP. Grab your copy at iTunes and Beatport now.



Further boosting excitement, Keys N Krates recently dropped an intriguing 'Dance Recital' video for 'Are We Faded'‹the first track to be released from the 'Every Nite' EP. A unique and clever concept, this video takes the viewer to the heart of a school show that sees 'Are We Faded' performed on stage by a group of kids with cleverly manipulated home videos. Check it out here:


Internationally renowned for their mix of hard-hitting, bass-heavy, electronic music and Hip Hop, Keys N Krates continue to raise the bar as they once again turn the dance music scene on it's head. Perfectly produced and ticking all the right boxes from start to finish, each track is riddled with powerful synth sections, signature vocal chops and the driving force behind all Keys N Krates music‹808 drums. Having already seen massive success from their 2013 'Solow' and 'Treat Me Right' EP releases, the forward-thinking beat makers have once again one-upped them selves with an EP that is sure to solidify their place at the forefront of the electronic music movement.
EVERY NIGHT EP TRACKLIST
Understand Why
Hypnotik
Are We Faded
Yes We Faded
Your Love
She's So High
Known for their unique and completely live 'beats-as-a-band' performances, Keys N Krates have already left their mark on some of this summer's biggest festivals. With still more than half of their incredible North American 'Every Nite' tour still to go, the guys show no sign on slowing down any time soon. Keep up to date with all tour and release news via their official social media channels.
Keys N Krates & Gladiator Every Nite Tour Dates
9/24 – Eugene, OR – WOW Hall
9/26 – Seattle, WA – Showbox Theatre @ SoDo (Decibel Festival)
9/27 – COMING SOON
9/28 – Fairburn, GA – Tomorrowworld**
9/30 – Whistler, BC – Garfinkles
10/1 – Revelstroke, BC – Treverse
10/3 – Edmonton, AB – Encore
10/4 – Sacramento, CA – Launch Festival**
10/5 – Calgary, AB – Commonwealth
10/7 – Boise, ID – Revolution Center
10/8 – Salt Lake City, UT – The Depot
10/9 – Denver, CO – Gothic Theatre
10/10 – Ft. Collins, CO – Aggie Theatre
10/11 – Colorado Springs, CO – Rawkus
10/14 – Tulsa, OK – Cain's Ballroom
10/15 – Austin, TX – Empire
10/16 – Baton Rouge, LA – Varsity Theatre
10/17 – Biloxi, MS – Kress Live
10/18 – New Orleans, LA – House of Blues
10/19 – Birmingham, AL – Workplay Theatre
10/21 – Murfreesboro, TN – Tempt
10/22 – Chattanooga, TN – Track 29
10/23 – Asheville, NC – Orange Peel
10/24 – Charlotte, NC – Chop Shop
10/26 – Buffalo, NY – Waiting Room
10/28 – Syracuse, NY – Westcott Theater
10/29 – COMING SOON
10/30 – Boston, MA – Middle East
10/31 – State College, PA – Levels^^
11/1 – COMING SOON
11/5 – Pittsburgh, PA – Rex Theater
11/6 – Baltimore, MD – Soundstage
11/7 – Washington DC w/ Zeds Dead – Echo Stage
11/8 – Virginia Beach, VA – Peabody's
11/9 – Carborro, NC – Cat's Cradle