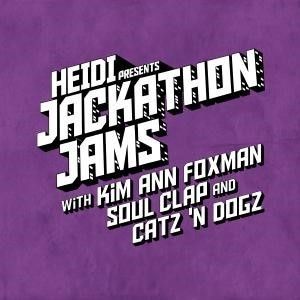 Kim Ann Foxman – Heidi Presents Jackathon Jams
New York´s Kim Ann Foxman steps up for the next instalment of Heidi Presents Jackathon Jams with a helping hand from Boston´s favourite duo Soul Clap and Polish heavyweights Catz ´N Dogz. The Aside features the deep and hypnotic ´Be Mine´ followed by the equally intoxicating club jam ´Let Me Be The One (New York Club Mix)´. On the Bside Soul Clap deliver a spaced out remix of ´Let Me Be The One´ while Catz ´N Dogz add a dose of acid to their rolling version of the track. Released as digital extras Foxman also offers a 'New York Dub' and 'Fantasy Mix'.
BACKGROUND
Growing up in Hawaii, the ambitious Kim Ann Foxman now lives in Brooklyn NYC where she's thrown notoriously decadent parties and thrives off a hectic life of globetrotting and performing.
Major releases and remixes have occurred on the likes of Needwant and on Love Fever as a collaboration with Ron Jason. Showing her strength as a songwriter Kim Ann also featured on Maya Jane Coles' 'Burning Bright', which was a huge track last year and the best selling track on Maya's album. She also remixed 'Sunset' by The XX with stunning results and the beginning of this year saw her collaborate with Pleasure Planet to deliver the brilliant 'Animals' on Throne of Blood.
2014 is set to be a big year for Kim Ann with huge festival appearances at the likes of Exit, Melt, Farr Festival and SW4, plus a New York residency soon to be announced. An album project is also underway to be released next year.
Soul Clap have released and remixed on the likes of Airdrop, wolf + lamb, Crosstown Rebels, Double Standard, Suol and their own Soul Clap Records. This year they embark on a Crew Love Tour which will include a bus tour covering Western Europe alongside crew members such as Wolf + Lamb, Nick Monaco, PillowTalk and No Regular Play.
Catz ´N Dogz have appeared on the brightest underground labels such as Trapez, Crosstown Rebels, Pokerflat, Boxer, Dirtybird, Mothership, Leena and their own Channels Records. The duo also regularly run parties in Berlin and Poland when not playing at the best parties the world has to offer.