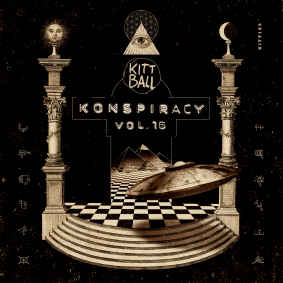 Various Artists - Kittball Konspiracy 16
Kittball Records return this September with the 16th edition of Kittball Konspiracy, including contributions from German Brigante, Jojo Angel, Sllash & Doppe, Yolanda be cool and more.
Based in Dortmund, Kittball have been going from strength to strength since they launched back in 2005, providing upbeat dancefloor focused house music to an enormous fanbase. They now continue their various artist series, 'Kittball Konspiracy', which features music from the label's key artists as well as talented emerging talent. Their sixteenth instalment includes a German Brigante remix of 'Reliquia' – a collaboration between Tube & Berger and Paji originally released on the imprint in 2014 – not to mention stand out cuts from the likes of Steve Hope, Yago Luna, Jojo Angel, Rob Kali, and more.
Jojo Angel's 'Diarabee' kicks off the pack, offering spirited vocal samples and peppy drums to provide a lively atmosphere to start. Stereo Express follows with the melodic 'Makaveli', before German Brigante takes things into deeper territories with the 'Terraccita' remix of 'Reliquia'. A bumpy bassline joins whirring atmospherics in Yolanda Be Cool 'How Acid Started', leading into murky chord progressions in Silash & Doppe 'Donut Lie' until Yago Luna presents a thumping house roller complete with energetic vocals in 'Fresh Sneakers'.
Nearing the end, Steve Hope nods towards classic stateside house with infectious piano stabs in 'Stranger Than House', making way for Rob Kali who blends exuberant percussion with a soulful male voice in the suspenseful 'Stimulation'. Concluding matters, Made in Riot and Zacharias Tiempo present 'Right' – a euphoric journey filled with tightly knitted pads and soaring synths.
'Kittball Konspiracy 16' is out on Kittball Records 14th September 2018.
Tracklist
1. Jojo Angel – Diarabee
2. Stereo Express – Makaveli
3. Tube & Berger, Paji – Reliquia (German Brigante 'Terraccita' remix)
4. Yolanda be cool – How Acid Started
5. Sllash & Doppe – Donut Lie
6. Yago Luna – Fresh Sneakers
7. Steve Hope – Stranger than House
8. Rob Kali – Stimulation
9. Made In Riot & Zacharias Tiempo – Right