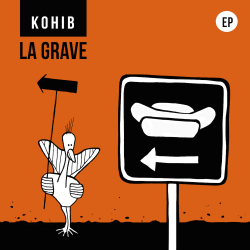 Kohib – La Grave EP
Kohib, AKA Øivind Sjøvoll from Sortland in the north of Norway, has been an important part of the club scene in the town of Tromsø since 1997, first as a DJ, and later as a club organizer. He released his debut album, Make Fire, in 2010, with the digital only remix-compilation Make Fire – The Remixes released late 2011. He has also done remixes for artists like Volta Cab (Lost Paradise Recordings), Mari Boine (Universal Music) and Flunk (Beatservice Records).
In 2012, Kohib launched an EP series focusing on club-oriented tracks. The first, the Solar Day EP, was released in 2012, and the universally acclaimed follow-up, the Tirakan EP, a collaboration with renowned 'Sami' singer Mari Boine, was released in 2013. Now, the 'dance trilogy' is finally completed with the La Grave EP, due for release at the end of April 2014.
The La Grave EP opens with the title track, featuring cool syncopated house rhythms mixed with layers of moody, arctic ambience. "The Little Giant" follows, deeper and darker, with a steady four-on-the-floor beat, techno handclaps, pensive soundscapes, and shades of disco-dancing bushmen. The final track, "Percalaise," nods heavily to fellow Norwegian Bjørn Torske's epic classic "Jeg vil være søppelmann" with its percussion overdrive. But while the Torske's track morphs into dirty disco, "Percalaise" moves more into bubbly techno / house grooves. These three tracks offer a distinctive take on electronic dance floor sounds, seamlessly merging disco, house, and techno elements into Kohib's unique style. DJs looking for a club-pleasing twist to their sets, take note.
Label and Artist Links:
www.beatservice.no
www.soundcloud.com/kohib