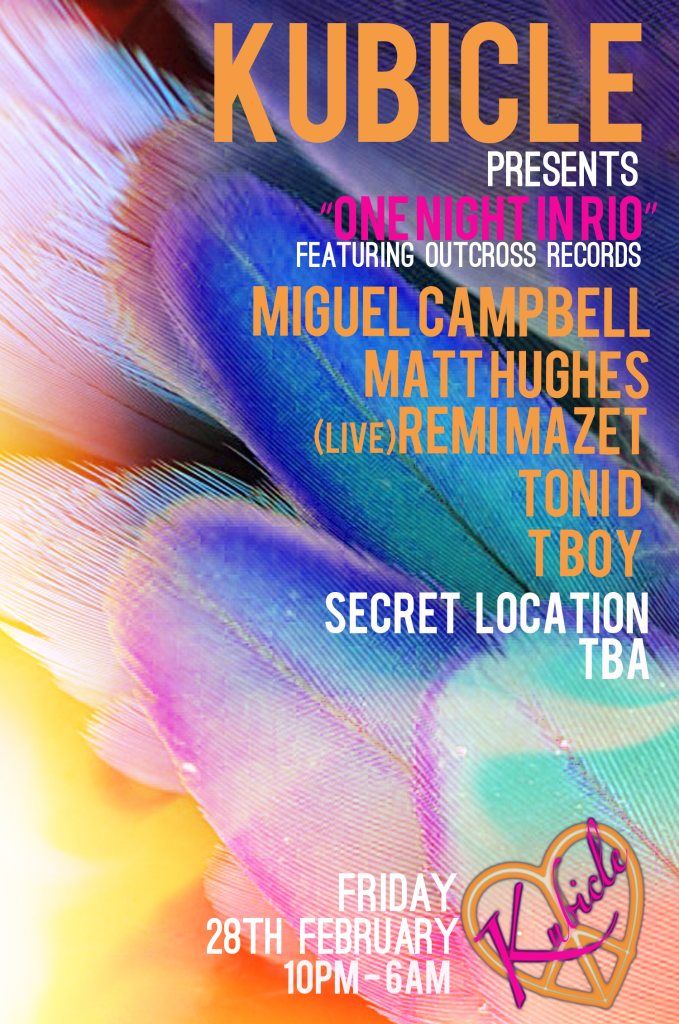 Kubicle presents One Night in Rio
Line-Up: Miguel Campbell, Matt Hughes, Remi Mazet LIVE, Toni D, Tboy
Club culture tastemakers, Kubicle raise the bar for 2014, starting their seminal event series on Friday 28th February with a touch of the exotic, bringing Rio's vibrant carnival vibes to a new London home for a special collaboration with Miguel Campbell's highly regardedOutcross Records, headed by the man himself.
Since 2005 Kubicle have garnered a fierce reputation for their intimate, fun-fuelled parties in unusual spaces that keep the focus firmly on two things; good music and good times. In a scene that can lack creativity, their mission is to bring the love back to the dancefloor with freedom of expression at the bedrock of the Kubicle spirit. The dedicated KubiKids go to great lengths to participate, dress up and enjoy the special events that the girls curate, making Rio Carnival the perfect theme to start the year. Art installations and other interactive elements will be introduced to create a kaleidoscopic assault on the senses that make the Kubicle experience the most exciting presence on the current club scene. Expect tropical décor, colourful costumes, festival vibes and most of all… expect the unexpected!
With a forward-thinking music policy, early Kubicle events supported the likes of Jamie Jones, Dyed Soundorom and Richy Ahmed at the start of their careers. Continuing in this tradition, they invite progressive imprint Outcross Records to join them for one night in Rio. After exploding onto the scene with his 2011 dancefloor anthem 'Something Special' Miguel Campbell's meteoric rise to prominence has been fuelled by the 2012 release of debut LP 'Back In Flight School' and a tour schedule that has seen him smash dancefloors at major venues and festivals around the globe. The record label head honcho will be supported by the ranks of Outcross' finest in the form ofMatt Hughes and Tboy accompanied by Remi Mazet who will be playing a hypnotic live set and Kubicle resident Toni D. This timely collaboration coincides with the release of 7 Years Of Outcross Compilation, which goes on sale on February 17th.
To spread the love even further, Kubicle will team up with charitable organization Love Support Unite for 2014, supporting a fundraising scheme with proceeds going directly to the Tilinanu Orphanage in Malawi.
ABOUT KUBICLE:
Set up in 2005 by Liz Mendez and Sonia Anderson, Kubicle was born to create a welcoming space for lovers of cutting edge electronic music. Starting as a series of parities at 'the Toilet: Public Life' – a converted Victorian toilet under the pavement deep in the East End of London – Kubicle has also curated areas at chosen festivals including Glastonbury, Secret Garden Party, Lovebox, Eastern Electrics, Unknown Festival & Burning Man as well as regular parities in their spiritual home Ibiza. Residency at Sankeys and Ocean Beach, plus beach parties and villa parties all over the island have cemented their place in Balearic club culture. They also collaborate and work with the likes of Cocoon, Paradise – Hot Creations, Circoloco, Panorama Bar, Mulletover and Superfreq.