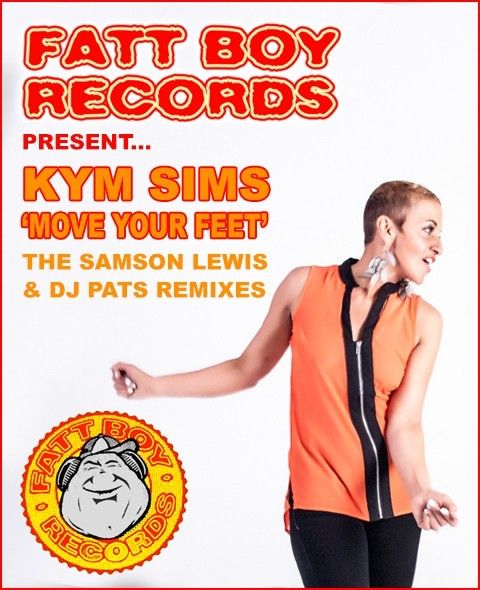 Kym Sims - Kym Sims – Move Your Feet
The irrepressible FattBoy Records label is back and true to form it fires up the underground house movement with its shimmering new Kym Sims release ''Move Your Feet' featuring mixes from DJ Pats and Samson Lewis.
DJ Pats shimmering Remix of 'Move Your Feet' is a funk-laced house groove cut up with spacey fx, live guitar and bouncing live bass, an electro hook and swinging beats underpinning Kym's distinctive and soulful vocal. Newcomer Samson Lewis toughens up the beats up on his deep house bouncing bassline killer that Is surely going smash it on dancefloors all over the world. With a standout Dub that explodes with raw bouncy bassline energy and swinging keys making it a vintage-styled essential. Hotting it up ahead of its late July release.
A key vocalist of the fledgling house scene, American, Kym Sims is best known for her classic vocal smash 'Too Blind to See It' which hit the No 1 on the UK National charts and many other countries. Kym's 'Take My Advice' was another big anthem of the 90's and which saw her go on to tour some of the world's best-loved house events and clubs. Having performed with Busta Rhymes and Tone Loc on the Early Edition TV show, Kym is ready to soar the heights again on her new release.
Remixed by acclaimed French DJ Pats, who launched the National Hip Hop Convention in Nantes, France, as well as working with the legendary disco and house DJ/ Producers such as Larry Levan, Shep Pettibone, Arthur Baker and Salsoul's Tom Moulton, during his stint in NYC.
He is joined by Midlands producer Samson Lewis, www.soundcloud.com/samsonlewis
who is one of a new breed of UK producers, blurring the lines between house and soulful with inventive deepness. BBC Radio 1Xtra play his tunes including his 2014 Remix of the seminal UK garage classic 'Spend The Night' by Danny J Lewis and his Remix of 'Rocking With Attitude' on Soulheat.
Holding down a DJ residency @ The Cuban Exchange in Wolverhampton and at Gas Street Social bar in Birmingham, Samson has played lots of venues and events around the Midlands over the past 6 years as well as DJ-ing in some of Europe's finest clubs including Andy Ward's Vocal Booth Weekender event in Spain, WWJD – What Would Jesus Do tour at Space, Sunset Strip and boat party events in Ibiza and Different Musiq Records parties in France. With over 25 productions under his belt, Samson continues to build his reputation with another fine set of mixes.