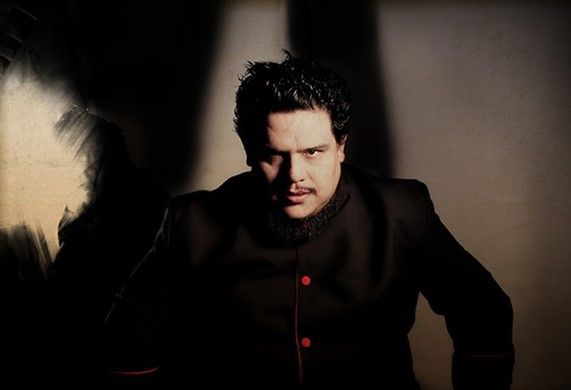 LA performance artist Dorian Wood
Los Angeles artist DORIAN WOOD is "armed with a vocal charisma that would befit a preacher and an experimental streak that would make avant-gardists swoon." He has brought his emotionally-charged performances to concert halls, museums, music venues and performance spaces throughout the US, Mexico and Europe, with a voice that channels the skill and ferocity of such auteurs as Scott Walker, Nina Simone, Nick Cave and Tom Waits.

Dorian Wood will be touring Europe in support of his latest album, Rattle Rattle, performing with special performance art guests Nicola Canavan, Thomas Bresolin and Nina Davies at this excLusive UK show to finish of the tour.

Rattle Rattle is an epic collection of original doomsday-themed songs that form one strong, continuous piece (think Scott Walker re-doing Brian Wilson's Smile). The album was made possible through a successful Indiegogo fundraising campaign, and it incorporates over 60 musicians, including a 45-member choir assembled by Dorian himself, The Difficult Women, as well as bassist Sebastian Steinberg (Fiona Apple), trumpetist Daniel Rosenboom (Josh Groban), violinist Paul Cartwright (Father John Misty) and renowned French vocalist Nina Savary.

Both as a soloist and with his stellar backing band, Dorian has opened for such renowned artists as Tom Brosseau, Baby Dee, Little Annie, Lisa Germano and Jason Webley, to name a few. As a performance artist, Dorian worked with Marina Abramovic in her 2011 piece "An Artist's Life Manifesto" in Los Angeles, and he has presented his own works at such institutions as the Museum of Contemporary Art (Los Angeles), Los Angeles County Museum of Art, Yerba Buena Center For The Arts (San Francisco), The Stone (New York) and the Stockholm Fringe Fest (Sweden).
Do not miss out on this exclusive one-off intimate show.. Get your tickets now!