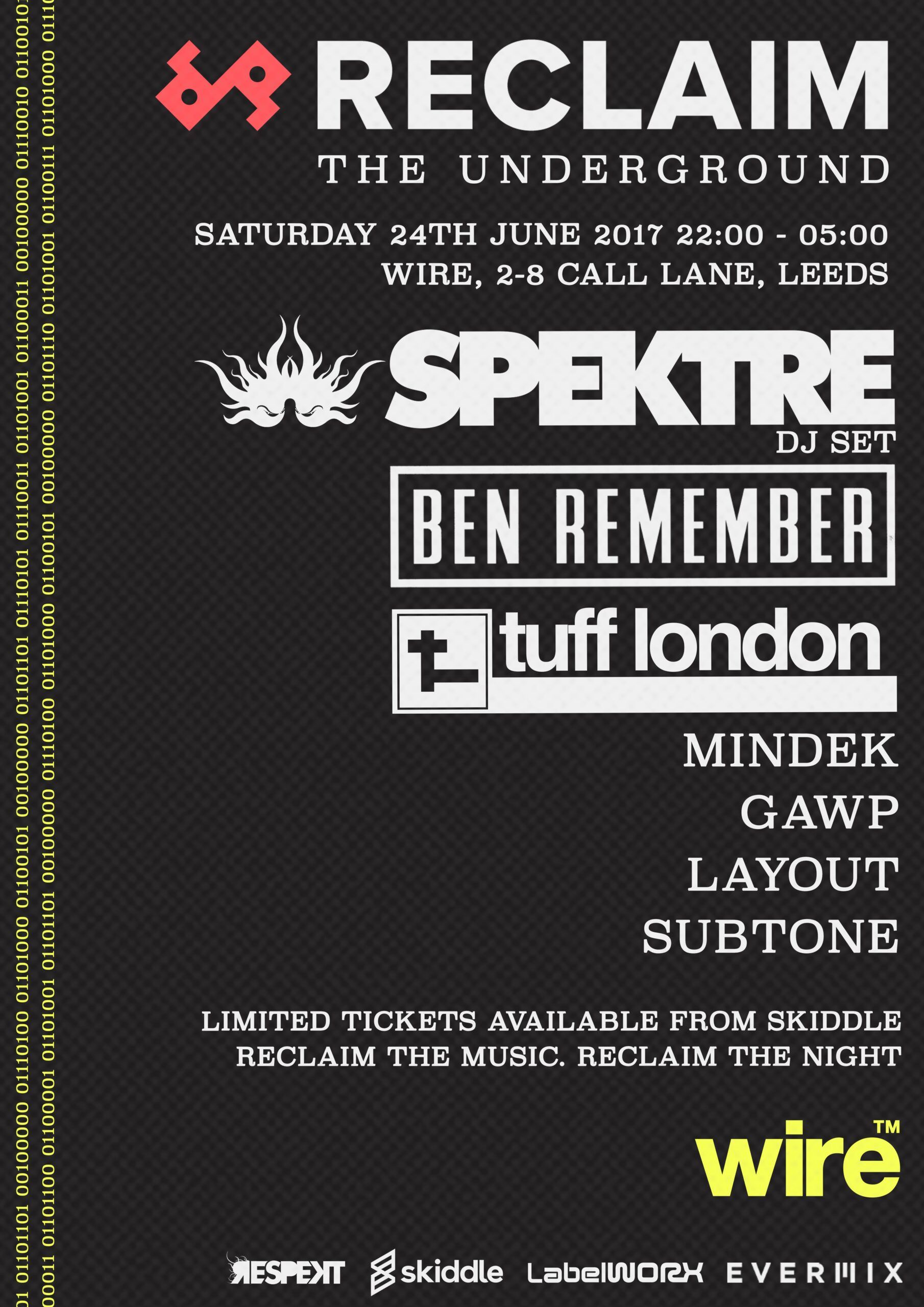 Label Worx joins Mindek & Tuff London to 'Reclaim The Underground'
As an entity that has worked tirelessly behind the scenes to keep your favourite record labels ahead of the curve over the last decade, Label Worx has witnessed a sweeping change in the way that dance music is consumed – both at home and in the club. On the eve of their tenth anniversary, Label Worx will be partnering with Reclaim – a brand new collective formed by two of the UK's most exciting underground acts, Tuff London and Mindek, for a brand showcase and launch event which has the aim to take things back to basics. It's time to Reclaim The Underground.
Launching in Leeds on 24th June at Wire, Reclaim The Underground will bring together Spektre, Ben Remember, Tuff London, GAWP, Mindek and more for a night that promises a structured progression, eclectic vibes and a stripped-back focus towards the music of the night itself. Mindek's Alex Powell said:
"After being part of, and playing a key role in an industry that we love, we've watched as dance music has changed considerably over the last few years. We want to take things back to basics – too many nights have the same style of music played from start to finish without any kind of progression. It's the same with labels who can easily become solely genre-led and then end up outdated as popular genres change. We wanted to mix things up and throw some parties that have progression: from house and disco, through to techno. Nights that people remember – not just for the visuals or the club, but for the music and the people. Reclaim is for everyone."
And in addition to the regular club nights, he promised the collective would be launching RECLAIM – a record label that would support the events through releases with the same ethos:
"Through the parties, we want to Reclaim the underground as well as the music, this will be coupled with a new label "RECLAIM" which will sign EPs and Singles that cannot be pigeon holed. Our remit is pure vibes and quality house, techno, disco and everything else in between. It felt right to join forces with Tuff London for this project – a duo who we have worked with for over ten years and share our passion for this."
Understanding the way that many labels and promoters have found themselves pigeonholed with a particular sound, Reclaim is a project that strives to break down the walls between genres and promises something for anyone who loves dance music. Tuff London's Sam T spoke about the partnership with Label Worx and the collective's opening party in Leeds next month:
"We're really excited to be partnering with Label Worx to help them celebrate their 10th anniversary, and there's no better way to celebrate than with a big f**k off party! It's exciting to be able to get together a load of the most reputable underground artists from the house, techno and tech house scenes, and bring such a diverse showcase to one of the best cities in the U.K."
With the first party lined up as a statement of intent, and the first EP on the imprint due to drop 23rd June, Reclaim could be the breath of fresh air that dance music so desperately needs right now. The journey begins in Leeds on June 24th: it's time to Reclaim The Underground.
Tickets available from Skiddle: https://www.skiddle.com/whats-on/Leeds/WIRE/Reclaim-The-Underground/12982009/
#ThisLabelWorx
http://www.label-worx.com/