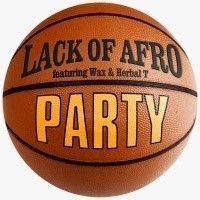 Lack of Afro – P.A.R.T.Y
You may have heard Lack Of Afro's track P.A.R.T.Y. – which features Def Jam Records star Wax alongside Herbal T – as featured in the recent Footlocker x Adidas Originals 'Party' commercial featuring Fernando Torres.
Lack Of Afro – AKA Adam Gibbons – has released three albums on Freestyle Records to date and has a brand new fourth album, 'Music For Adverts', due out in Spring 2014. His unique blend of funk breaks and soulful melodies has kept him at the forefront of the nu-funk movement over the past six or so years. The one-man funk machine combines the art of sampling with the organic, seamlessly crafting original songs that set dancefloors ablaze. This very track is testament to that talent!