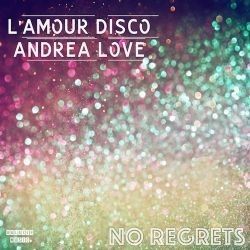 L'amour Disco – No Regrets
'No Regrets' marks the debut release for L'amour Disco on his own brand new label Galaxer Music. With it's heartbeat firmly planted in NY Disco, L'amour has lovingly constructed a glittering Chic inspired soundscape, employing some of New York's finest musicians, including beautiful strings from violinist/arranger/orchestrator, Pete Whitfield (One Direction, Olly Murs). The icing on the cake comes by way of a stunning song, penned and gracefully delivered by Chi-Town's Andrea Love, recorded by Grammy-winning producer/remixer Maurice Joshua and mixed down by Toni Economides.
L'amour Disco is the Disco pseudonym of London based producer/session musician, Markus Williams, who has mainly worked behind-the-scenes in the world of production and has made remixes notably Shock & Chic Pres. Barbara Tucker & Inaya Day 'Do You Think Of Me'. Now Markus is set to launch his own label Galaxer Music with a view to simply putting out great music that transcends the boundaries of Indie Dance.
Influenced by Gospel, with Jazz and R&B overtones and a vocal range over 5 octaves, Chicago singer/songwriter Andrea Love is undeniably a musical force to be reckoned with. Her most notable release was with Grammy nominated remix producer Eric "E Smoove" Miller, releasing the now classic, 'Shined On Me' (Praise Cats f/ Andrea Love – Subliminal Records). Andrea is currently working on a debut solo Acid Jazz/Soul project that is set for release in 2015.