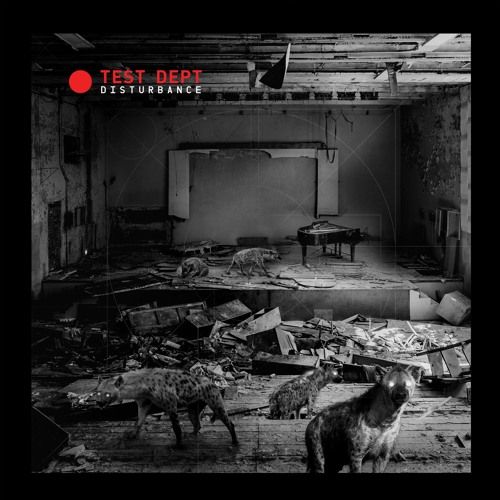 Test Dept - Landlord
Industrial pioneers Test Dept have announced a brand new forthcoming album – their first in 20 years -Disturbance, and shared the first cut via The Quietus today; Landlord. The track is a pounding industrial-punk cut, calling out the money-grabbers who capitalise off the current housing crisis. "Landlord! Landgrab! // Depletion, neglect of care // Landlord! Landgrab! // Private venture, public despair." Disturbance is out on 1st March via One Little Indian Records.

In an ideal world, Disturbance would not need to exist. Britain would not stand divided by xenophobia; working class communities would not be under siege; Capitalism would not have created a climate change crisis pushing the planet towards a dangerous brink; and the Thatcherite ideals that Graham Cunnington and Paul Jamrozy spent Test Dept's early years raging against would not be so terrifyingly back in political vogue. "The mess we're in now is unbelievable, hence the title. It's disturbing in the extreme" says Cunnington, who's been issuing a call-to-arms about all this since 1981. That was the year he, Jamrozy and a revolving door of talented artists from disparate disciplines and backgrounds formed Test Dept, forging an incendiary new sound from a squat in New Cross that made them underground heroes and landed the group under surveillance by the British government. 37 years later, on brand new album Disturbance, that sound is as incendiary as ever.
Lead single Landlord takes thumping kick drums that evoke the group's '90s techno experiments and deploys them into a battle zone of machine gun snare rolls, coruscating arpeggios and violent cries about Britain's Grenfell-era housing failures. "We try not to be too literal, but some things need to be said" Jamrozy explains of its blunt-force calls for people to place "a fist in the face of rapacious greed".
"Art is not a mirror to reflect reality, but a hammer to shape it", the poet and playwright Bertolt Brecht once wrote. It's a mantra that continues to drive Test Dept, who opened Total State Machine with that quote and who approach music as a vessel to inform, to persuade, to excite and to ignite. OnDisturbance, that philosophy hasn't changed from their days collaborating with a striking miners' choir in South Wales to attract attention to the miners' plight; from their days showing sonic solidarity to rave artists threatened by the Criminal Justice and Public Order Act 1994; from their stands against pit closures, apartheid, Rupert Murdoch and more. Complete with chilling artwork, courtesy of the group's new visual director David Altweger, full of powerful images and revolutionary themes consistent with the Russian-inspired aesthetic of their early work, Disturbance attempts to take a hammer to the horror of recent times. "Destroy the past, destroy the past" a voice whispers over beautiful, drifting piano notes on the delicate Debris. Test Dept return to their past on this eviscerating new album in order to move into a bold new future. They hope Disturbance can soundtrack a society doing the same.