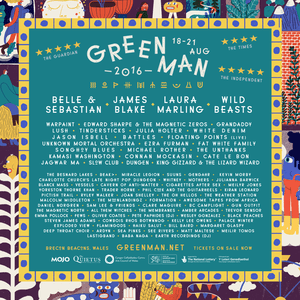 Laura Marling headlines Green Man 2016
As our rolling Welsh hills are warmed up by the past week's wonderful weather, it's not long now 'til we descend on the glorious Brecon Beacons for reclining in the rays and imbibing inspirational music from this year's guests!

We've kept you waiting, but we think she's worth the wait.. We're over the moon to reveal our third and final headliner, in the majestical form of Laura Marling, the enchanting folk goddess. Her legendary performances have always gone down a storm at Green Man and we're already feeling awestruck imagining her Saturday night set on the Mountain Stage in 2016.

Lush return from a 20-year hiatus and their haze-filtered, bittersweet grooves will be transporting us away to blissful harmony. We're feeling very jammy, too, that we can welcome Connan Mockasin's psych-pop to soundtrack carefree cavorting in the sun.

Just as unique an experience will be Charlotte Church's Late Night Pop Dungeon, a karaoke experience – unlike any other you've experienced before, or ever will again. And there's yet more electronic wizardry with the addition of Blanck Mass and Vessels and their glitchy beautiful electronica, not to mention the news that the Chai Wallahs tent will be returning with more beats and boogieing to sustain you all well into the early hours.

New additions in full:
Laura Marling (Saturday night Headliner),
Lush, Connan Mockasin, Charlotte Church's Late Night Pop Dungeon,
Vessels, Blanck Mass, Malcolm Middleton, Black Peaches, Pete Paphides (DJ), Cowbois Rhos Botwnnog, Haiku Salut, Exploded View, Bill Baird, Margaret Glaspy, Seapinks, Meilir Tomos, Matt Maltese, Earth Recordings (DJ), 47 Soul, Akua Naru, Asbo Disco, By The Rivers, Carny Villains, Chainska Brassika, Diplomats of Sound (DJ), Future Dub Project, Gringo Ska, Guts, Hot Feets, Luke Potter, Makuti, Parker & Moneyshot, Sam Green & The Midnight Heis, Shelanagig, Spinx, Urban Folk Quartet, Will Varley.

Green Man 2016 line-up in full:
Belle & Sebastian, James Blake, Laura Marling, Wild Beasts, Warpaint, Edward Sharpe & The Magnetic Zeros, Grandaddy, Lush, Tindersticks, Julia Holter, White Denim, Jason Isbell, Battles, Floating Points (live), Unknown Mortal Orchestra, Ezra Furman, Fat White Family, Songhoy Blues, Michael Rother, The Unthanks, Kamasi Washington, Connan Mockasin, Cate Le Bon, Jagwar Ma, Slow Club, Dungen, King Gizzard & The Lizard Wizard, The Besnard Lakes, Beak>, Miracle Legion, Suuns, Gengahr, Kevin Morby, Charlotte Church's Late Night Pop Dungeon, Whitney, Mothers, Julianna Barwick, Blanck Mass, Vessels, Cavern of Anti-Matter, Cigarettes After Sex, Meilyr Jones, Yorkston Thorne Khan, Trader Horne, Phil Cook and the Guitarheels, Kiran Leonard, Pictish Trail, Ryley Walker, Joan Shelley, The Oh Hellos, The Weather Station, Malcolm Middleton, The Moonlandingz, Formation, Awesome Tapes From Africa, Daniel Norgren, Sam Lee & Friends, Clare Maguire, BC Camplight, Gun Outfit, The Magnetic North, All Them Witches,The Membranes, Amber Arcades, Trevor Sensor, Emma Pollock, Fews, Oliver Coates, Pete Paphides (DJ), Wesley Gonzalez, Black Peaches, Steven James Adams, Cowbois Rhos Botwnnog, Kelly Lee Owens, Palace Winter, Exploded View, Flamingods, Haiku Salut, Bill Baird, Margaret Glaspy, Deep Throat Choir, Ardyn, Seapinks, I See Rivers, Matt Maltese*, Meilir Tomos*, Lastigband*, Baba Naga*, Earth Records (DJ).