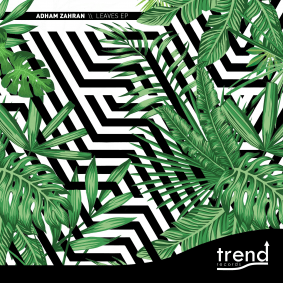 Adham Zahran - Leaves EP
The ever eclectic Trend Records welcome fast rising artist Adham Zahran for three more of his beautifully deep house productions.
Adham Zahran is an artist from Egypt who has a fully formed, musical house sound that has landed on labels like Galaktika Records, Space Breaks and Neoviny and picked up support from tastemakers like James Teej, DJ Nature, and Laurent Garnier. His high quality locked grooves, melodic synths and old school flavours feature again in this latest and greatest missive.
It is the gorgeous 'Leaves' that picks things up, with jazzy chords adding rich layers of warmth, soul and depth to Zahran's loose house drums. It's the sort of breezy tune that will bring summer love to any floor.
The more introverted 'Monday Blues' is another stylishly smooth and evocative track, with more exquisitely soulful chords, this time smeared over a broken drum beat that has a heavy heart. Emotive and authentic, it is a standout production.
Last of all, and showing another side, is the excellent 'Rhodes Funk.' Slowing the tempo to a laidback bump, this one has wallowing chords for you to swim in while a noodling lead keyboard line rides up and down the scale with a real sense of funk.
Off the back of this heart-warming, glowing house EP, Adham Zahran is certainly an artist destined for big things in 2019.
Tracklist:
1. Leaves
2. Monday Blues
3. Rhode Funk