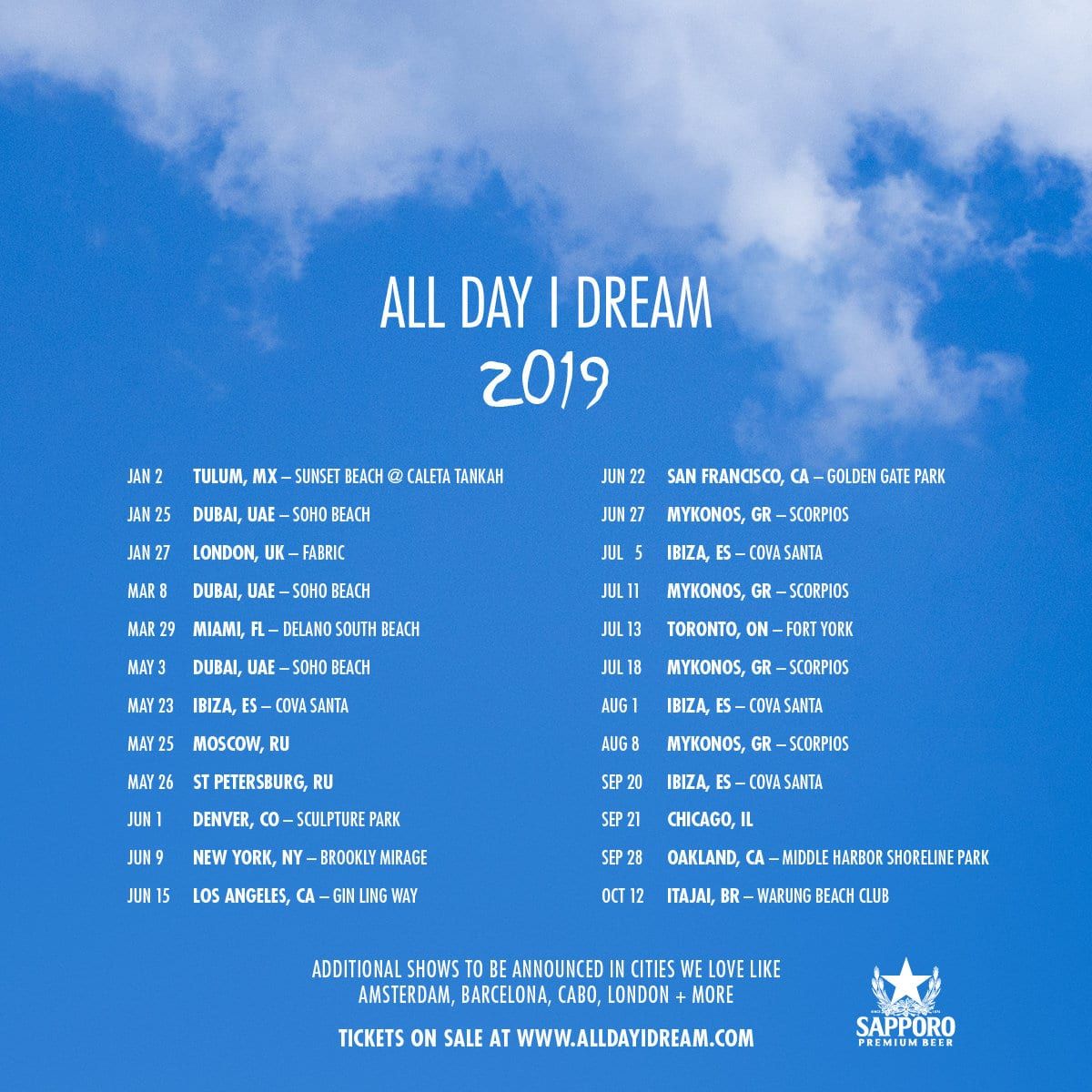 Lee Burridge Announces 'All Day I Dream' Summer Residencies
Following All Day I Dream's winter season of events in Dubai's SOHO Garden, Lee Burridge announces that 'All Day I Dream' will once again take up residencies in the idyllic party hotspots of Ibiza and Mykonos, across the Summer months. This news also follows Lee's third turn behind the iconic BBC Radio 1 Essential Mix decks.
With 5 dates set to take place on the White Isle between May and September, ADID Ibiza will open on 23rd May at Cova Santa and Mykonos follows with its opening party on 27th June. Returning for a second Summer season at the legendary Scorpios, the world's premiere daytime party hosts further dates on 4th July and 8th August.
All Day I Dream embarks on another tour of one off events taking place in exciting locations such as Moscow, St. Petersburg, London, Barcelona and Amsterdam.
All Day I Dream also returns home for its own Summer season on US shores, with a string of dates taking place in New York, San Francisco and Los Angeles, as well as popping over the borders into Canada and Mexico.
With Lee delivering his sun-soaked cosmic vibes to the likes of Warung Brazil, ADE, Tomorrowland, Art Basel, BPM festival and Burning Man, the hedonistic events have transformed venues across the world into mystical experiences. Structural art, lanterns, fairy lights and flowers marry together to form a sweet haven.
A sound pioneered by Lee Burridge himself, the sound of All Day I Dream has lead the way for many artists and labels to interpret and make their own.
Check the full tour here
Live dates:
Mar 29 Miami, FL @ Delano South Beach
May-3 Dubai, UAE @ SOHO Beach
May 23 Ibiza, ES @ Cova Santa
May-25 Moscow, RU
May-26 St Petersburg, RU
Jun-1 Denver, CO @ Sculpture Park
Jun-9 New York, NY @ Brooklyn Mirage
Jun-15 Los Angeles, CA @ Gin Ling Way
Jun-22 San Francisco, CA @ Golden Gate Park
Jun-27 Mykonos, GR @ Scorpios
July 5 Ibiza, ES @ Cova Santa
Jul-11 Mykonos, GR @ Scorpios
Jul-13 Toronto, ON @ Fort York
Jul-18 Mykonos, GR @ Scorpios
Aug-1 Ibiza, ES @ Cova Santa
Aug-8 Mykonos, GR @ Scorpios
Sep-20 Ibiza, ES @ Cova Santa
Sep-21 Chicago, IL
Sep-28 Oakland, CA @ Middle Shoreline Park
Oct-12 Itajaí, BR @ Warung Beach Club
About All Day I Dream
All Day I Dream events began on a Brooklyn rooftop back in 2011 and have since become an international sensation. Around the world, crowds gather to become part of a community spurred on by Lee Burridge and his unique roster of artists, each bringing forward a signature technicolor emotionalism, the sort that's all too rare in the current electronic music scene.
Spreading across the world from New York to Los Angeles, from London to Moscow, Berlin to Beirut, the parties expanded and flourished due in part to Lee's major presence at Burning Man and his desire to create something magical.
Giving the partygoer (or "Dreamer") more than just the usual short DJ set, All Day I Dream aspired to create its own unique ambience through the combination of the musical selection and journey as well as unique venues, each decorated with draped fabric, fairy lights and lanterns creating an unparalleled and magical atmosphere.