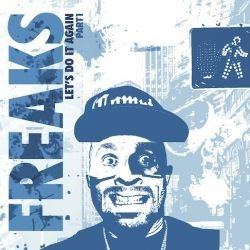 Freaks - Let's Do It Again Pt 1
Music For Freaks has been relaunched by Luke Solomon and Justin Harris, aka Freaks, to showcase the diversity within the scene that it was famous for back in the mid 90's. Using 50 years between them of experience in the wonderful world of House Music, Solomon and Harris have managed once again to pull together a collection of music and remixes that test the boundaries without compromising on quality.
Spearheading the label relaunch is an alluring package of unearthed MFF classics from Freaks and Turner which includes remixes from 2 of the finest contemporary dance producers of the moment, Ricardo Villalobos and Tuff City Kids. Ricardo works his Leftfield magic on Freaks 2003 arty classic 'The Man Who Lived Underground', delivering a giant 12.33 minutes of Villalobos quirky deepness. German duo, Tuff City Kids take on Turner's 'Been Out' and deliver a lush deep groove, drizzled with echoes of 80's electronica armed with heavenly vocals and lush keys, primed to bring the house down. Topping off this sublime package is an original unreleased edit from 1999 of Freaks 'Instrument', ripe with it's bubbling bass and a perpetual spacey synth hook that dances around their infectious funky beats.
Music for Freaks was one of the freshest and quirkiest labels of it's time, launched in 1999 by the unpredictable naughty kids in the dance music playground, Justin Harris & Luke Solomon together known as Freaks. As well as an outlet for their own musical madness, MFF played host to some of the best freshest and deepest artists of the Nineties and Noughties, including the late and great Kenny Hawkes, Turner, Rob Mello, Zoo Brazil, Mark Farina and many more. Both enjoying hugely successful careers in their own right, Justin and Luke have decided to re-light the touch paper and bring back their eccentricity to the dance floor, showing the middle finger to the mainstream and exposing a whole new generation to the legendary MFF anarchy!
Track List
1 Freaks – The Man Who Lived Underground (Ricardo Villalobos Remix One)
2 Turner – Been Out (Tuff City Kids Vocal Remix)
3 Freaks – Instrument (Unreleased 1999 Edit)