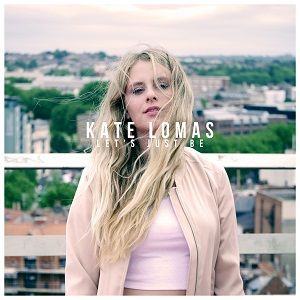 Kate Lomas - Let's Just Be
Merging her love of infectious pop melodies and dreamy electronic soundscapes, Bath-based newcomer Kate Lomas presents the official release of her euphoric debut EP 'Let's Just Be', via The Sound Of Everything UK.

The first single to be released from the project is the sun-kissed title track 'Let's Just Be'. Co-produced by Guy Britton, the track features swelling vocals samples, an ebullient hip-hop inspired beat and heartfelt vocal melodies that float delicately somewhere in between the likes of Lorde and Oh Wonder. Painting a carefree picture of nostalgia, Lomas describes the track as being about "people changing and friendships growing apart in modern day life. It's about how the world used to seem so big when we were younger and as you get older your perception of it changes and people change their outlook in life".

The follow up single 'Tipsy' presents Kate in a darker light as her bold, playful vocal delivery takes precedence in the track, and shines over the sparse, minimalistic production. Featuring a bed of syncopated synths paired with gleaming, atmospheric percussion, 'Tipsy' is an ode to the sense of intoxication felt when in awe of that special person.
Showcasing Kate's diverse influences, the EP takes on various musical forms and from the beat driven 'Weight In Me' to the dance-inducing 'This Kind Of Life' she displays her versatility as an artist, weaving seamlessly between the melancholic R&B tones of BANKS and the dulcet pop melodies of Birdy.

Armed with a true talent for songwriting, Lomas draws on personal experiences to create honest and thought-provoking stories with her music, and through the deep cinematic textures paired with her carefully crafted lyrics, 'Let's Just Be' is a dreamlike journey into her world. Written and produced over a two year period the EP acts as a musical memoir where she describes that "each song can be pinpointed to a scenario or emotion I have come across in the last two years."

'Let's Just Be' is a sincere and uplifting debut release demonstrating Kate Lomas' ability as both a songwriter and producer. And with all the ingredients to cement the exciting young singer as one of the finest talents in the electro-pop scene, we watch with baited breath as she begins her beguiling journey.