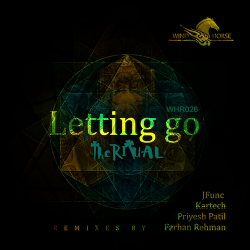 The Ritual - Letting Go
Wind Horse Records' 'east meets west' aesthetic fuels its latest release, as the India-based deep house imprint presents the newly formed London duo The Ritual. Made up of seasoned producer Matt Prehn (of Large Music, i! Records, Different Attitudes, and his own label, Oh So Coy) and vocalist / producer Dee Griffin (Large Music, Different Attitudes), The Ritual aims to be a creative ensemble working to push the boundaries of deep house. Serving as the pair's debut release, "Letting Go" certainly sets this stage with its shimmering floor appeal. Crisp, groovy rhythms and flowing, filtered chords provide the base of the track, while warm pad swells, melodic plucks, and dreamy found sounds embellish its journey. The result is a mesmerizing after-hours moment, suited for the deepest of DJs and the most underground of nightclubs.
A quartet of distinctive remixes send "Letting Go" floating off in new directions. Glasgow's JFunc is first, producing a tough version that rolls with deep bass, spacious hits, and a masterfully constructed build. Kartech, coming of his recent "Larrisa" single for Wind Horse, follows with a beguiling remix, drawing the listener into its luscious breakdown soundscape filled with expressive sound design. Next, Priyesh Patil, also no stranger to fans of the Wind Horse label, delivers a dream-like revision that features rhythmically intertwining elements and splashes of echo effects throughout. Farhan Rehman then closes out this trio of Indian remixers, powering his version with warm sub-bass, hypnotic synth sequences, and smooth layers of pads. All these remixes show a melodic acumen, giving "Letting Go", as a whole, much more depth than the usual house music single. It's yet another tour de force for Wind Horse Records.