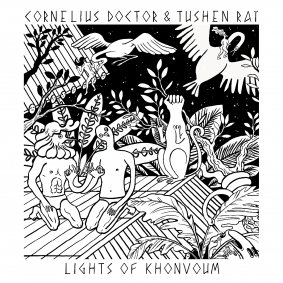 Cornelius Doctor & Tushen Rai - Lights of Khonvoum
HARD FIST: ''The Hard Fist imprint comes back harder with a fourth 12-inch EP, a global beat inspired work mixed with cosmic synths and acid lines. The two minds of the label, Tushen Raï & Cornelius Doctor joined their forces to release the striking « Lights of Khonvoum », trippy and definitely made for the dance floor.
Back to the roots of their African influences, they produced 4 tracks inspired by primitive ritual music from the « Cradle of Mankind », going far away from the hype of highlife, afrobeat and afrofunk groove. Focusing on polyphonic chants and polyrhythmic artisanal percussions, the EP celebrates trance states of dancers during birth ceremonies, weddings or funerals. Cornelius Doctor and Tushen Raï try to keep the power of mystic and religious music in a modern way. They introduce heavy beats and dark cosmic synth waves for an allegoric club reinterpretation of ancestral sounds. To go deeper in the spiritual experience, the two wizards are joined by their favorite producers: their gang member Bawrut (who released « Drums of Passion », the 2nd Hard Fist EP) and Pletnev, son of the "down tempo" revolution's city, Vilnius. Black Gold opens the record with loud beats, saturated with percussions and hypnotic rolling snare. Its deep and heavy synth melody and long astonishing trippy break make one promise: kill the dance floor.
Pletnev delivers a mental remix with the second track: introducing step-by-step new percussive and melodic elements in order to keep the suspense and the crowd breathless. With N'dehou (small Pygmy flute) and women choir, Centrafreak transports you straight to Central Africa's rainforest. The soul of the EP may be hidden in La Tribou, probably the most surprising and singular track. A dark heavy beat keeps you dancing while flooding you in a wave of tribal percussions, human panting, crying, having an orgasm and shouting. Bawrut remix is a hardest club version with more frontal and unstructured bass line reminding his typical snare's call.
To close this 5 pieces EP, Tushen Raï and the Doctor leave you with Kinto, the darkest work of the project. Introduced by a long cosmic wave, the track sprinkled of synth flights and trancy ghost voices. Its acid baseline sounds like an old Jeep's engine rumbling in the desert, driving you to the end of the world.''
'Lights Of Khonvoum' is out on Hard Fist 5th October 2018.
1. Black Gold
2. Centrafreak (Pletnev Remix)
3. La Tribou
4. La Trubou (Bawrut Remix)
5. Kintu