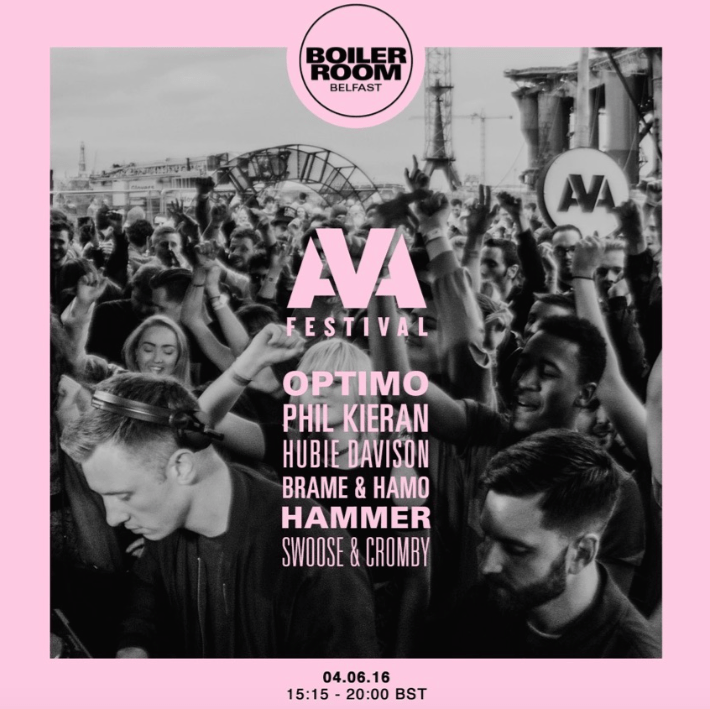 Line-up revealed for AVA Festival x Boiler Room
Belfast's AVA Festival has firmly established itself as an event driving the Irish electronic scene into the public eye, a day-long festival that showcases talent emerging from the country, whilst inspiring the next generation. After bringing live streaming giants Boiler Room across the water to Ireland for the first time last year, AVA Festival are pleased to reveal the line-up for their return, with Optimo, Phil Kieran, Brame & Hamo, Hubie Davison, Hammer and Swoose & Cromby. AVA Festival ticket holders will have the opportunity to secure their place at the Boiler Room Broadcast by signing up via an emailed sign up link, which will be open from 11th May. To see last year's AVA X Boiler Room, check out the video here.
Across five hours at a third AVA stage, Boiler Room will stream sets from 100% Irish talent; old and new, established and emerging. One of the most esteemed DJ duos around, Optimo step up, with JG Wilkes celebrating his Belfast heritage with a proud homecoming show. Shine resident and local hero Phil Keiran also plays; a stalwart of the Belfast scene, Phil has been shaping the sound of the city for some time, and has a string of huge releases across leading house and techno imprints. Another duo storming their way through the Irish underground of recent are Brame & Hamo, the house explorers will make their Boiler Room debut at AVA Festival this year.
Over the last 12 months, Hubie Davison has firmed up his place as one of the most creative producers around, creating nostalgic feeling club tracks that dance between house and disco. AVA Festival are proud to host Hubie at this years event and Boiler Room. Another Belfast talent on board is Hammer – one of the cities driving musical forces, and rounding up the Boiler Room bill is dream team Swoose and Cromby. After cutting their teeth on the local scene as teenagers, Swoose and Cromby are putting their names on the international map with recent shows at Berlin's infamous spot Berghain and beyond.
This years Boiler Room at AVA Festival and Conference is supported by Tourism Ireland, who help AVA tell the story of Belfast's music scene to the rest of the world. Entry to the Boiler Room session is only available to those who have already purchased a festival ticket, and capacity is limited. To be in with chance of attending, please keep an eye out for the sign-up page, that'll be announced via AVA channels on May 11th. PLEASE NOTE: Only full AVA Ticket holders will have the opportunity to sign-up for priority entry to the limited capacity Boiler Room Broadcast by signing up via an emailed link. Those who are successful will find out the day before the event.'
A one-of-a-kind event in Belfast, AVA Festival and Conference is paving the way for a new generation of talent. There are limited free spaces on the AVA conference workshops, available via www.avafestival.com/conference and limited tickets for the AVA evening showcase, with a price tag of just £30, with less than 50% remaining. For those travelling from the UK and beyond, T13 Belfast is only 10 minutes by car from Belfast City Airport (LDN > BEL approx 1hr30) and flights are available from £40 via skyscanner.net. Accommodation wise there are plenty of hotels, and apartments for rental close by for group bookings. Whilst there is no car parking at T13, there are various paying car parks close by.
EVENING LINE-UP : LINE UP (More TBA):
RØDHÅD, Bicep Live Show (UK Debut), Mano Le Tough, Gerd Janson, Optimo, Phil Kieran, Psycatron, Jordan, Hammer, Swoose & Cromby, Jika Jika, Twitch DJ's, Misfit (live), OR:LA, Terriers (live), T-BONE B2B JMX, JC Williams, Sunil Sharpe, Brame & Hamo, Belfast Music Club, Guerrilla Shout, Belfast Music Club, Belfast Underground Records.
AVA FESTIVAL AND CONFERENCE
Saturday 4th June 2016 – 11.00am – LATE | Venue: Titanic Quarter, Belfast
AVA Free Conference register here: www.avafestival.com/conference Program here:
FESTIVAL TICKETS ARE ON SALE FROM £30 – www.avafestival.com/tickets