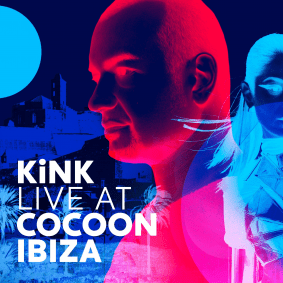 KiNK - Live at Cocoon Ibiza
Cocoon is proud to present a world first live mix CD from Bulgarian wizard KiNK.
This mix CD was recorded live at Cocoon Ibiza at Pacha on July 25th 2018 and is a fantastic snapshot of not only KiNK's abilities, but also the sort of world class soundtracks that make Cocoon Ibiza the most vital techno party in the world.
KiNK is a real master of improvised techno and his celebrated live sets have been a vital ingredient for the ecstatic Cocoon Ibiza nights over the years. He plays his award-winning live shows all over the world, spellbinding crowds with his unique synth patterns and arresting drum programming. He has released his music on labels like Running Back, Burek and DGTL Records and is widely regarded as one of the most accomplished artists of his day. The adventurous journey he cooked up at Cocoon Ibiza back in summer is testament to that.
Here the Bulgarian offers a 70-minute cross-section of his skills. Well-known tracks, especially from last year's Playground LP on Running Back meet exclusive, unreleased material in a spontaneous tour de force through the history of electronic dance music. There are distinctive nods to Chicago and Detroit, jazzy organs spiraling into string-drenched skies ('The Russian'), insatiable acid excursions ('Five') and heavy-duty discoid workouts ('Use The Rhythm' and 'Perth') as KiNK's irresistible nature strikes repeatedly at the heart of the dance floor.
This, then, is a vital and landmark addition to the ever-essential Cocoon label.
Press contact – [email protected]
Tracklist:
(01) KiNK – live improvised intro
(02) KiNK – The Russian
(03) kirilik – Guitars
(04) KiNK – Kink In De Kabel
(05) Owain K – A Test (KiNK Mix)
(06) KiNK – Trans
(07) KiNK – Dynamo
(08) KiNK – live session with Valeri
(09) Rachel Row – Use The Rhythm (KiNK Mix)
(10) KiNK – Rave Transition
(11) KiNK – Perth
(12) KiNK – Five
(13) KiNK feat. Krista – I Remember
(14) KiNK – Romantics
(15) KiNK – Disco Transition
(16) KiNK – Chorus
(17) KiNK – live improvised outro