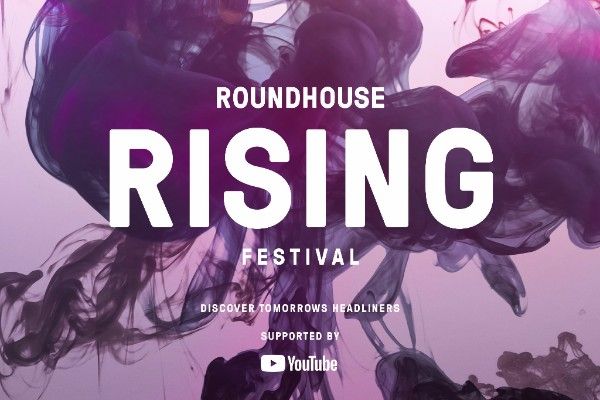 London venue announces programme for nine day Roundhouse Rising Festival
Revered London venue announces programme for nine day 'Roundhouse Rising' Festival, with LIL SIMZ, JAZZ RE:FRESHED, BOKO!BOKO!, BLAIR DUNLOP, 1XTRA and many more
ROUNDHOUSE RISING 2018
Wednesday 21st February – Sunday 4th March
Ticket prices – varying prices from FREE to £30
www.roundhouse.org.uk | #RHRising2018
Standing proud in the heart of Camden town, London's historic Roundhouse has been a pivotal part of the city's musical soul for many years as a venue and creative hub for young people. A mainstay of the Roundhouse's music programme and returning for the 9th edition is ROUNDHOUSE RISING. This year, YouTube will be the headline partner for Roundhouse Rising and host of the Artist Toolkit Day in their 'YouTube Space London"
Uniting fresh breakthrough talent with globally acclaimed artists, ROUNDHOUSE RISING is all about providing top quality shows for an accessible ticket price. 2018 will see everything from main space shows with the likes of Little Simz' 'Welcome to Wonderland Part II' through to 1Xtra grime takeover, plus a sound clash, workshops, panels, talks and much more. With ticket prices from FREE to maximum £30, plus a range of multi-buy ticket options available here, there's no reason not to be a part of ROUNDHOUSE RISING 2018.
ROUNDHOUSE RISING: WHATS ON?
Varied and eclectic, each Rising show reflects the Roundhouse's distinct and diverse personality.
First up will be the ARTIST TOOLKIT DAY on the 24th February, taking place at the YouTube London Space – the headquarters for these original innovators.
The 25th February is all about soothing Sunday sounds, with an intimate gig for the folk heads. Award-winning British songwriter and guitarist BLAIR DUNLOP headlines whilst lo-fi rocker DM Farley, Roundhouse Resident Artist Saachi Sen and Ailbhe Reddy are on support duties.
Tastemaker collective JAZZ RE:FRESHED head up the 27th Feb, with the hottest new sounds. There you'll find Triforce representing, a group influenced by everything from jazz and hip-hop, plus everything in-between. Expect warming neo-soul with a funky edge. Breakout drummer Ayo Saluwu will perform with his cosmic crew the Jazzadelics, supported by rising talent and Roundhouse Resident Artist Fred Fredas and the Roundhouse Music Collective.
Grime fans, get ready for the next show on 28th, where pioneering radio station BBC Music Introducing and 1XTRA unite a heavy bill of associated artists for a night of hi-energy madness for 'BBC MUSIC INTRODUCING & 1XTRA' night curated by DJ Target. Brum MC boy Dapz on the Map (RiskyRoadz) headlines, the lyricist is fresh from selling out the O2 Academy in his hometown of Birmingham, plus he has been cosigned by huge names like Professor Green, Shola Ama, BBK & Ghetts. There's young star Yizzy – one to watch, plus catch the powerful Alicai Harley who is the first lady of Caribbean crew BrukOut. Part of a new wave of female MCs is doing the thing, Shivz plays, and then East LDN dream team Mvngo & Lashes round off a solid-gold bill of rising talent. One of the Roundhouse's free events, this is definitely one that that shouldn't be missed. Sign up details coming soon.
Another stellar project from Roundhouse is the 'RISING SOUNDS' album, which sees established artists and producers working with next generation names to produce an album that fuses artists styles. On 1st March, Rising attendees can go to what is set to be a magical listening party, where several tracks will be performed live. Gaika (Warp Records), Bayoz Music (Giggs), Margot Broom (Fat White Family) are just a snapshot of those involved for 2018.
A firm favourite on the Rising agenda, 'RISING SOUNDCLASH' returns as one of the final shows on 2nd March, with champions Boko! Boko! clashing to hold their title, with three other crews to be announced. Dedicated to creating an inclusive space where females can party with no holds barred, the Boko! Boko! super squad play afro, tropical, dancehall and more. There'll be hi-energy efforts from the other crews. On a different tip, the event producers of tomorrow take the reins on Saturday 3rd March, with Roundhouse's training producers showing us their skills for a wholly Roundhouse curated event. More info to follow.
The hardest rapper in the game, LITTLE SIMZ, cut her teeth at Roundhouse years back, using the facilities to perfect her flawless flow and unparalleled skill as a lyricist. To round off 2018's edition of Roundhouse Rising, Simz will return to where it all began with her 'WELCOME TO WONDERLAND PART II' concept, curating a full day session with breakout talent and familia, plus discussions, exhibitions, food and more. Earlybirds start at just £15 for the full agenda, and with some heavy names to come, this will be a huge homecoming for the global star.
AND – there's much more to come.