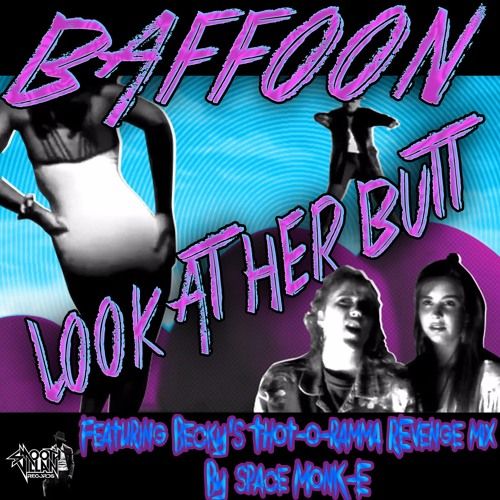 Baffoon - Look At Her Butt (Becky's Thot-O-Ramma Revenge Mix)
Space Monk-E is back with the release of his highly sought after remix of Baffoon's track 'Look At Her Butt' – with both the remix and original mix out now exclusively on Beatport, via Smooth Villain Records.
Touring all over the North American continent, Space Monk-E is quickly establishing himself as one of the fastest rising talents within the US East Coast EDM scene on his quest to international stardom. The highly sought-after DJ has been spending his fair share of time in the studio cooking up a vast amount of new productions. Along the years, Space Monk-E has managed to sign his name on top-notch material such as: 'Static', 'Burn', 'E Everybody', 'The Come Up' and 'Snake Charmer' to name a few, and is now back with his newest wonder 'Look At Her Butt'.
Crammed with energy, Space Monk-E has turned Baffoon's Dubstep monster into an Electro thriller. A solid drumbeat kicks the track off with a bang before introducing a memorable vocal, which is sure to grab the attention of dance floors worldwide. A hard-hitting Electro bass-line and razor sharp synths are later introduced, unleashing a state of chaos, sure to be a real hit at any festival. The energy levels are peeled back once again before the drop hits, showcasing Space Monk-E's unique production skills.
'Look At Her Butt (Becky's Thot-O-Ramma Revenge Mix By Space Monk-E)' is the latest addition to Smooth Villain Records' musical capital. Label boss Space Monk-E is a regular contributor towards the label's every growing and impressive catalogue of releases, cementing a place as one of America's most exciting new imprints.
With stellar artists such as: GenRx, Murmur, Kairo, Vinny Vega, Jack The Sipper, DeadRomeo and Jennifer Haley on the label's books, Smooth Villain Records is definitely on the rise to the top of the Dance music ladder, just like it's boss Space Monk-E.
Available On Beatport
https://pro.beatport.com/release/look-at-her-butt/1719440
Space Monk-E Online
https://www.facebook.com/djspacemonke
https://twitter.com/PJSpaceMonkE
https://soundcloud.com/space-monk-e
Smooth Villain Records Online
http://www.smoothvillain.com
https://www.facebook.com/smoothvillainrecords
https://soundcloud.com/smooth-villain-records