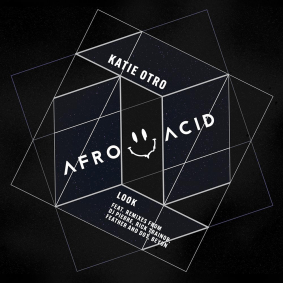 Katie Otro - Look
DJ Pierre's Afro Acid is set to release Katie Otro's fantastic new single 'Look' featuring dynamic remixes from the label boss himself as well as Rick Trainor, Beyun, and Feather and Dot. Katie Otro established her roots in New York City, and now lives between Berlin and Los Angeles. Her first release was championed by Todd Terry, debuting on his label In House Records.
Katie's musical knowledge transmutes borders and as a DJ she has held residencies at legendary clubs including NYC's Cielo and Ibiza Underground. Her ability to effortlessly flow through the most obscure to intimate of dance floors is undeniable, so from beach clubs to LA soirees, Katie's intuitions behind the decks are seamless. Now she unleashes her latest and greatest single on DJ Pierre's Afro Acid on which she looks beyond the glitz and glamor of living in Ibiza.
The high impact 'Look' is an artfully developed, hard and driving tech house joint, which with smacking snares and dark undertone evokes a sensual, underground mood perfect for sweaty, late summer dance floors.
First of the four brilliant remix versions is a Dark Matter Remix from the label boss himself, Chicago legend and acid pioneer DJ Pierre. It takes us on a brooding techno-influenced journey enveloped in a dark, rolling bassline and rough and raw percussive hits. Next up, LA's Rick Trainor has been playing the likes of BPM and private VIP parties for more than 10 years, he co-founded the group With You., has released on labels like Play It Down, Soul Clap Records and Hypercolour and counts Green Velvet and Benji B as regular supporters. His mix changes course to a lighter mood with elevating, gliding, crisp pads contrasted with a slightly mischievous, darker, seductive bassline.
Beyun is the label's A&R manager and has long been under the mentorship of Pierre, as well as promoting her own legendary parties in Boston. Her Vault Mix version dives deep with lush pads, rhythmically gated synth lines, and driving percussion. Lastly, making their mark on LA's conscious house scene and turning heads with their DJ sets, Feather and Dot are no strangers to adding beat driven psychedelia to modern electronic music. Their version takes us on a desert-influenced trip through sexy guitars, undulating analog synths, smacking snares and tribal percussion that will trip you out from start to finish.
This is a jam-packed EP with vital versions of a standout original from a true new school star of the scene.
Tracklist:
01 Katie Otro – Look (Original Mix)
02 Katie Otro – Look (DJ Pierre's Dark Matter Remix)
03 Katie Otro – Look (Rick Trainor Remix)\
04 Katie Otro – Look (Beyun's Vault Remix)
05 Katie Otro – Look (Feather and Dot Remix)