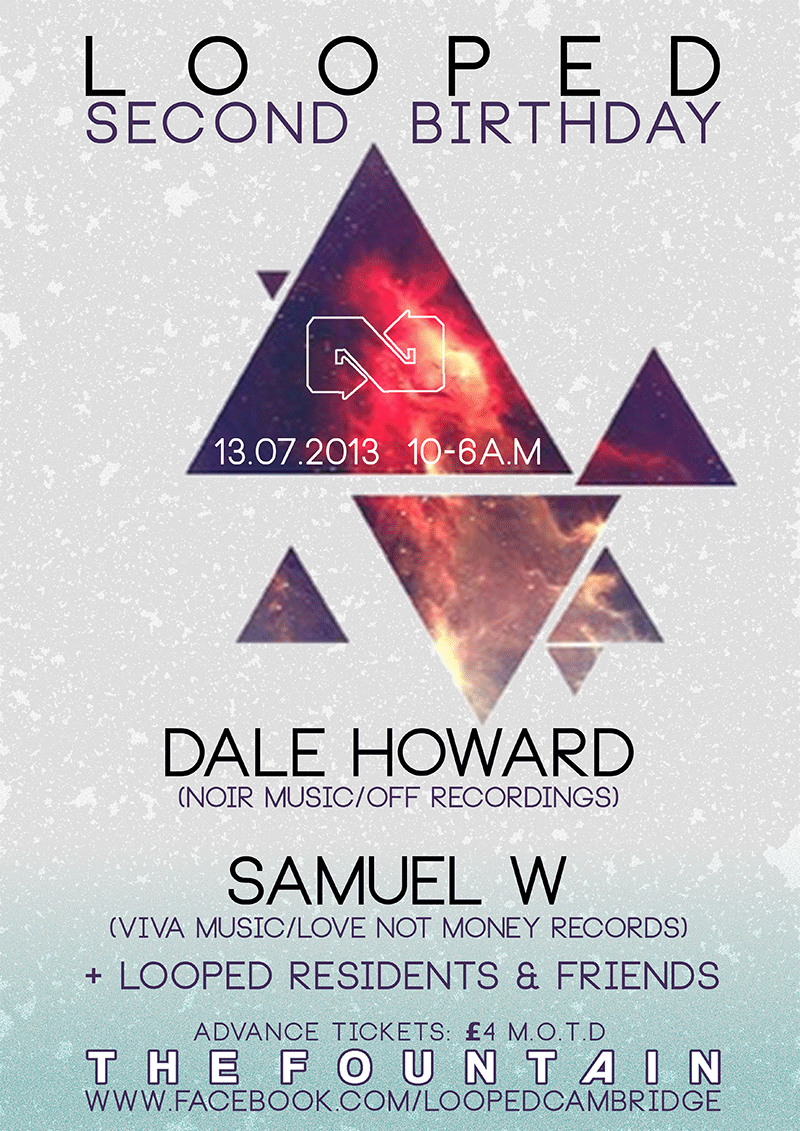 Looped 2nd Birthday with Dale Howard
LOOPED 2ND BIRTHDAY WITH DALE HOWARD
Saturday 13th July | The Fountain, Cambridge
Bar:
Dale Howard (Noir Music/Off Recordings/Lost My Dog)
Samuel W (VIVa MUSIC/Love Not Money)
Looped Residents
The Loft:
Chris Rawles
Kyle Michael
Leon Foster
Mr Frosty
M.O.D.E & B-Side Project
HiFi DJ's
10pm – 6am
£4 adv, £5 on the door
First of all, a massive thank you to everyone that has made it down to Looped over the past 2 years. The atmosphere and vibe that the crowds' have brought has been incredible, we're deeply indebted to all of you rascals.
For our Birthday we welcome one of the most sought after DJ/Producers around in the scene right now and one of our all time favourite artists: DALE HOWARD (Noir Music/Off Recordings/Lost My Dog). Dale Howard has been on our radar for some time now, with each massive release surpassing the preceding one, we really can't wait to see him smash Cambridge's back doors in.
We also have the City's hottest export joining us; SAMUEL W (VIVa MUSIC/Love Not Money). A former Cambridge citizen who now rubs shoulders with the big boys in Leeds, Samuel W has had a string of big releases on Steve Lawler's imprint; VIVa MUSIC. The likes of: DJ Sneak, Darius Syrossian and Hector Couto have all played Samuel W's tracks all over the world. We're incredibly excited to have these two huge headline acts down at The Fountain to give the place a right going over. 


The Loft space is headlined by up and coming Tech House DJ/Producer: CHRIS RAWLES (Serotonin Digital/Jeepers!) and a regular on the London circuit: KYLE MICHAEL (Santo Vida). Support comes from many of our good friends from around the Cambridge area and of course Looped residents (Andy Guy, M'House, Clemo, Nick O'Leary and Oliver Blake-Williams). There's no better setting for this all night session than our home and favourite party venue; The Fountain. See you on the floor for jelly and ice cream you scamps…
www.thefountain.co.uk