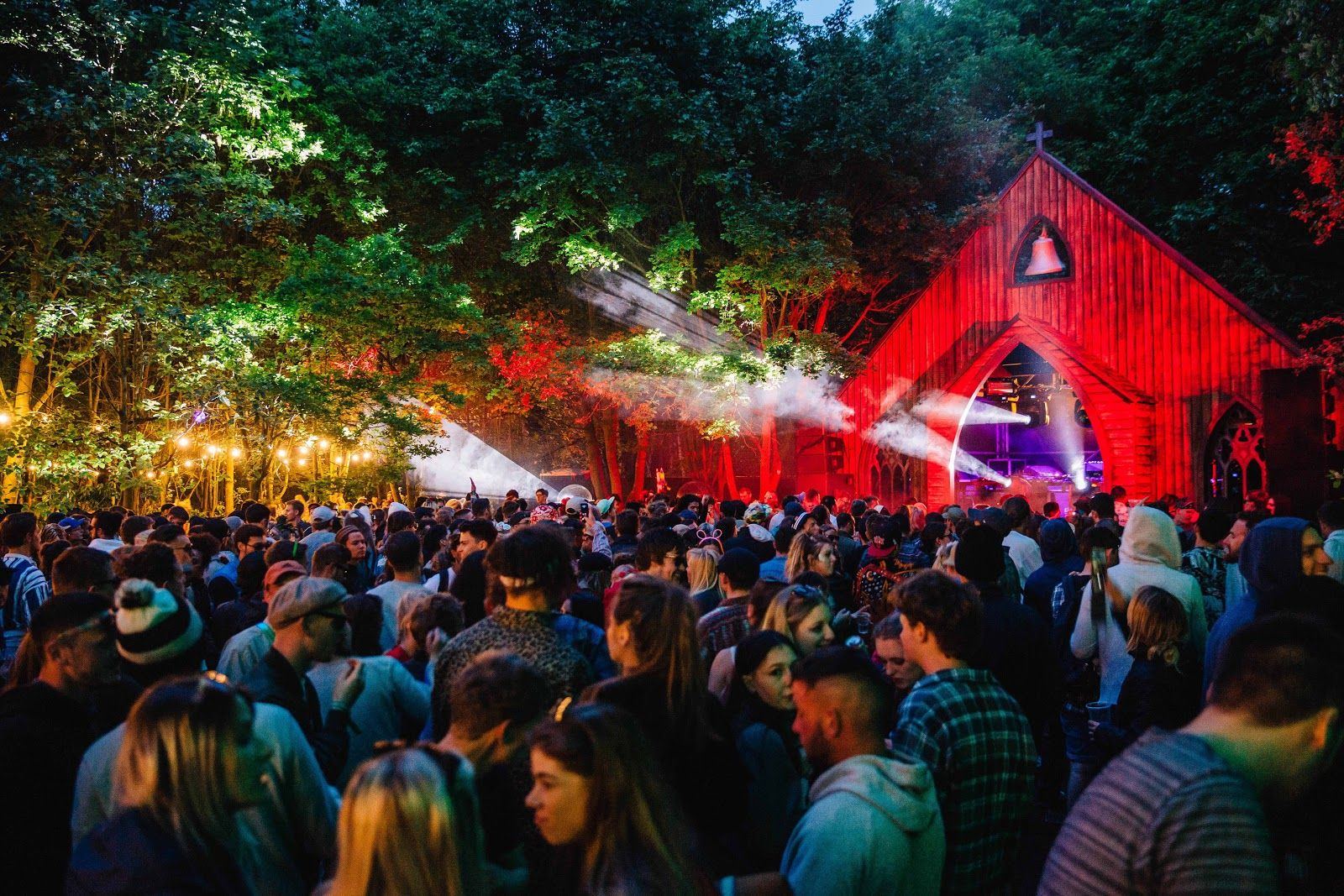 Lost Village Returns With 2017 Programme
Following two sold-out years, the intimate forest festival Lost Village returns with three days of immersive escapism, unexplored visions and an acclaimed music line-up headlined by Moderat and De La Soul.

Lost Village has become a beacon for those longing for a weekend that combines an unrivalled programme of music, arts, food & drink, encompassed within an otherworldly theatrical experience.

"Lost Village is a surreal world, inhabited by all manner of unusual beings. As you venture amongst the trees you'll navigate through intricate pathways and hidden streets, uncovering places such as the Forgotten Cabin, Lake of Tranquility and Bureau of Lost. And don't be surprised if you're whisked away to a secret hideout by one of the village's many natives… for the forest holds a million secrets"

Lost Village is a new kind of music festival. Intimate in size and obsessive about detail, the concept was created with passion, first and foremost. A passion to create a festival unlike anything else. Like stepping into a classic Stephen King movie, the Lost Village experience is a real life choose-your-own-adventure. Much like a movie it has a Director and a large cast of characters. However, this is a story that is ever-evolving and anything is truly possible. Intricate set designs and interactive installations transform the forest into a place where reality flickers and melts into a paranormal dreamscape, absorbing all who enter.

After last year's astonishing myriad of bands, DJ's and live acts, 2017 is set to take things to a higher level – with modern day innovators Moderat and iconic hip-hop greats De La Soul confirmed for headline sets across the weekend. Moderat, one of the world's most acclaimed electronic live acts, have continually expanded and evolved over the past 15 years, writing some of the most emotionally profound electronic music of our time. Equally as revered, De La Soul stand as definitive favourites in a genre's history – laying the groundwork for the sound of hip-hop we hear today. Their classic 1989 debut '3 Feet High And Rising' sits as one of the genre's defining moments – and their headline set is sure to go down in Lost Village history.

These headline names lead a carefully crafted line-up of exceptional music in all its forms, with sets across the village from Dixon, Nina Kraviz, The Black Madonna, Hunee, Craig Charles, Mr Scruff, Dusky, Jackmaster, Bicep, Ben UFO, Telefon Tel Aviv, Nightmares On Wax, Midland, Ibibo Sound Machine, Maribou State, Fatima Yamaha, Leon Vynehall, Jeremy Underground, Move D, Max Cooper, Artwork, Greg Wilson, Axel Boman, Gerd Janson, Legowelt, Joe Goddard, Denis Sulta, Fort Romeau, The 2 Bears, Boxed In, Horse Meat Disco, PBR Streetgang, Marcus Marr, Honey Soundsystem, J&AG, Mall Grab, Georgia, Ben Pearce, Avalon Emerson, Bill Brewster, Let's Eat Grandma, Marquis Hawkes, Baba Stiltz, Fakear, Moxie Elder, Island, Laurel, Courts, Smerz, Alexander Nut, Theo Kottis, Julia Govor, Or:la, North Downs, Matt Karmil, Apres, Al Zanders, Tuvaband, Shy Luv, Laurence Guy, Mr Bongo, House Of Good, Donnie Propa and many more all still to be announced.

Incredible eating is central to the Lost Village experience. The Basecamp is home to a vast selection of hand-picked global street food restaurants, whilst the exquisite Tribal Banquets are curated by Michelin star level chefs, such as Elizabeth Allen and Lee Westcott. When the hangover is seriously taking hold, what could be more perfect than a Sunday Roast from the world famous Hawksmoor of London? Honest Burger will be hosting the unique Officer's Mess restaurant, whilst craft beers, ciders and tasting experiences will be laid out throughout the village.

Comedy plays a keen role in the fabric of Lost Village, with previous guests including Katherine Ryan, Sam Simmonds and Joel Dommett, This year's line-up, released in the coming weeks, is set to be crammed with some of the most important and exciting names in modern comedy.

Elsewhere you'll find the Lake of Tranquility, offering a range of spa treatments, from hot tubs and Swedish saunas to massage and holistic therapies. Forger's Lane is a corner of the woods dedicated to creative workshops, whilst the Institute of Curious Minds will host talks, live interviews, discussions and team quizzes to stimulate the mind.

A truly unique festival, perpetuated by the unifying tribal inspired attire of its patrons, Lost Village is a gathering of lost souls and like-minds, in the beautiful surroundings of a long-forgotten forest.

With Earlybird and Tier One, Two and Three tickets selling out in record time, eagerly awaited Tier Four tickets go on sale on Friday 27th January at 10am, with a range of blissful boutique camping options also available across the weekend.
24th – 27th AUGUST 2017 – LINCOLNSHIRE
http://lostvillagefestival.com