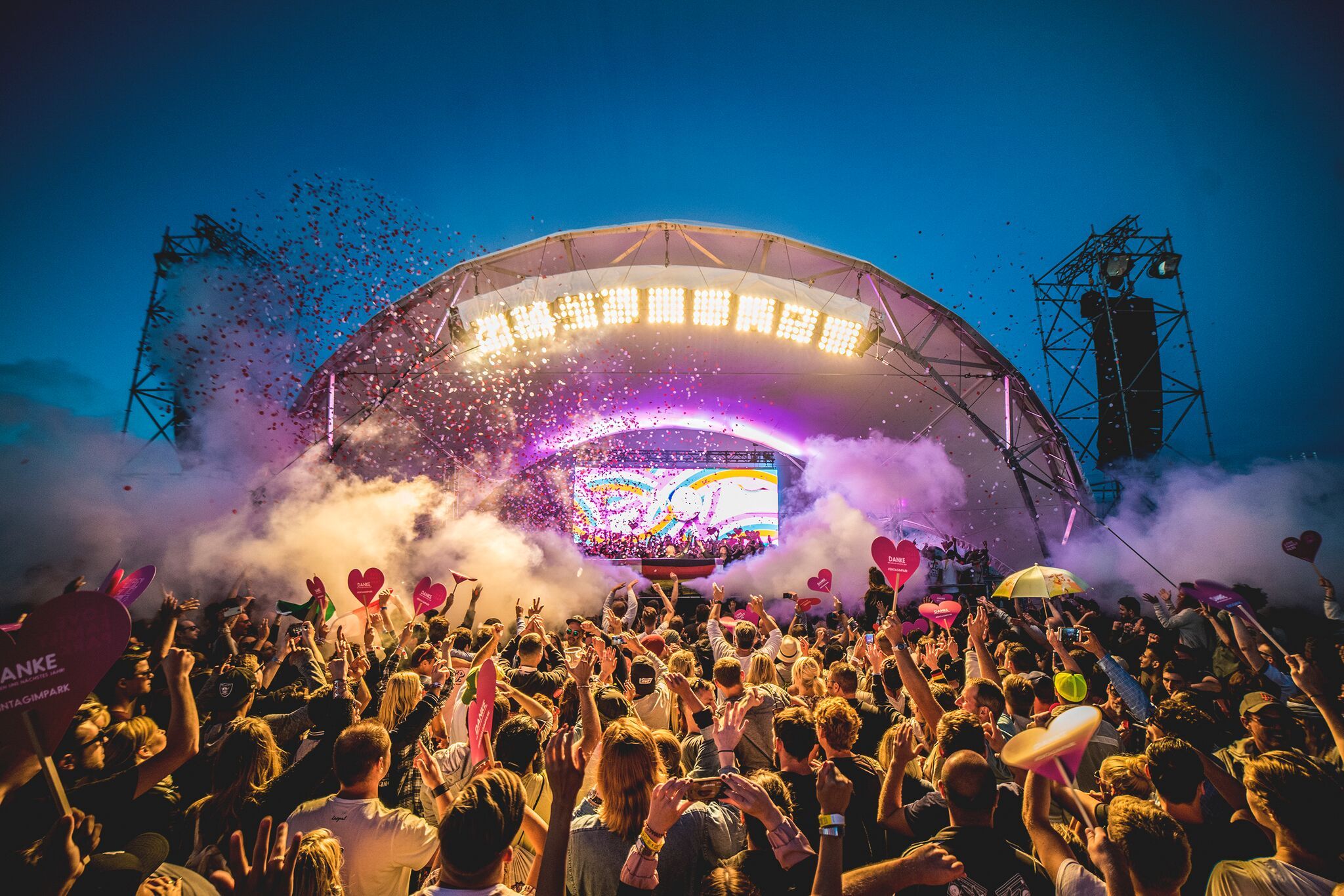 Love Family Park – timetable released.
Countdown is on and the schedule is here! With less than 3 weeks until the return of Love Family Park, now is the time to plan your rave adventure around an all-star lineup of techno's greatest.
LOVE FAMILY PARK 2018
SATURDAY 28 JULY 2018
10AM – 10PM
Rüsselsheim, Main, Germany
Info & tickets: www.lovefamilypark.com
and www.facebook.com/lovefamilyparkfestival
MEDIA PACK HERE
In under than three weeks, the original al-fresco all dayer, Love Family Park, returns after a short hiatus to its brand new, lush location on the River Main in Russelsheim. Just a stone's through from Frankfurt, LFP promises big room beats, melodic minimal grooves and techno explorations under the sun. An unbeatable line up boasts the hottest house and techno newcomers, international superstars and Love Family Park mainstays, from Ricardo Villalobos, Richie Hawtin, Seth Troxler and Nina Kraviz, to Butch, Amelie Lens, Karotte and so many more. All this, on crystal clear soundsystems and jawdropping production. For music lovers, it's a no-brainer. The schedule for the anticipated 22nd edition the Love Family Park is now live. Grab your tickets here and plan out your day with the final timetable below. TICKETS : www.lovefamilypark.com
LAST CALL FOR ACCREDITATION – [email protected]
For one day only, stunning surrounds of Mainvorland will be transformed into an all encompassing, sonic playground, where hedonistic electronic aficionados can lose themselves in music. Across 12 hours, upon four stages, Love Family Park release the schedule : an iconic set of 22 revered selectors, spanning the founding fathers, and the rising stars of the underground. No tickets are available on the door, so grab yours now from just 52.90EUR to avoid disappointment. TICKETS – www.lovefamilypark.com
STAGE 1
Stage One is all about groovy beats, melodic house, paving the way for chunky bleepy, fierce techno. Kicking things off as they mean to go on, it's jackin' house and tech wonders fromButch, followed by an impressive live performance from Dominik Eulberg. Afternoon fire comes from Russian royalty, Nina Kraviz, set to put dancers through their paces journeying through acid jams and techno slammers. Next up, it's Diynamic's very own Solomun – an anticipated return following his epic 2016 debut. His deep mind-bending grooves, are the perfect way to prepare for the one and only Sven Väth – the original star of the Love Family Park. Papa Sven has been a key player since day dot, ready to cast his spell across the banks of the River Main.
STAGE 2
Frank Lorber takes to the second stage ahead of a motley crew of world-revered selectors. Hedonistic moments come early doors via festival mainstays, Adriatique. Then, repping for seminal label, Innervisions, the mighty Dixon is set to cast a spell on dancers with his well renowned wizardry. Loco Dice, follows suit – returning to play a seamless set of big room belters. Vibe purveyor, Seth Troxler takes things into to the night with rhythmic grooves, setting the scene for a legendary finishing set. Needing no introduction, eclectic selector, Ricardo Villalobos, returns ready to take dancers right to the end, embarking on a sonic journey.
STAGE 3
Stage 3 boots off just a little later. From midday, take a trip with an intergalactic treat from Moonbootica, heating up before Fritz Kalkbrenner brings his live set to Russelsheim. Early afternoon, don't miss andhim, the duo known for emotive highs and epic drops. Another wicked live set will come courtesy of Berlin double act Lexy & K-Paul, with Fritz Kalkbrenner also bringing his electrifying live show to Russelsheim. Frankfurt's own Boris Brejcha spins the penultimate room three set, ahead of Sven Väth's longstanding friend and former Cocoon resident, Karotte bring things to a close.
STAGE 4
Oliver Koletkzi will be at the helm of Stage 4, setting the scene for Techno's biggest breakthrough lady, Amelie Lens – sure to bring her relentless, high octane energy from the off. Then, Festival faves, the inmitable Pan-Pot, will be next to to tear it up ahead of scene stalwart and CLR boss, Chris Liebing, bringing his signature slammers to Rüsselsheim. Also heading to the lush new riverside site, Cocoon resident, Maceo Plex brings his inspiring, hypnotic selections as night falls, a LFP debut. Last but certainly not least the pioneer, Richie Hawtin, is set to close the stage on a monumental high.
Love Family Park 2018 Line Up
In stage order:
STAGE 1
Butch – Dominik Eulberg Live – Nina Kraviz – Solomun – Sven Väth
STAGE 2
Frank Lorber – Adriatique – Dixon – Loco Dice – Seth Troxler – Ricardo Villalobos
STAGE 3
Moonbootica – Fritz Kalkbrenner live – Andhim – Lexy & K-Paul – Boris Brejcha – Karotte
STAGE 4
Oliver Koletzki – Amelie Lens – Pan-pot – Chris Liebing – Maceo Plex – Richie Hawtin
Big thanks to our global partners:
Warsteiner, Red Bull, Planet Radio, Sunshine Live, Resident Advisor, Jim Beam, Jägermeister
LOVE FAMILY PARK 2018
SATURDAY 28 JULY 2018
Rüsselsheim, Main, Germany
10AM – 10PM
Info & tickets: www.lovefamilypark.com