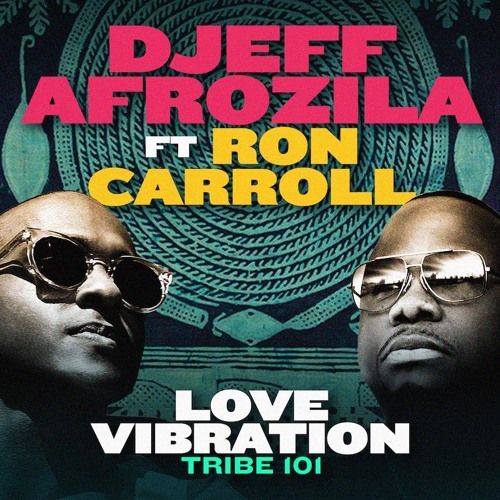 DJeff Afrozila ft Ron Carroll - Love Vibration
Making a mighty combo, 2 giant house heads DJeff Afrozila and Ron Carroll join forces to spread positive vibes this Autumn, unleashing the fruits of their new collaboration 'Love Vibration' on Tribe Records. DJeff's aftocentric beats provide instant sunshine as infectious drums call to the dancers on the floor. Ron delivers his feel good vocal which is backed by sweet harmonies, funky guitar licks and classy brass stabs, topped off with a sublime sax solo, cranking up the feel-good factor up to 11 so everyone can feel the love in the house!
DJ / producer DJeff Afrozila (aka Tiago Barros) was born in Lisbon, Portugal, but divides his time residing also in Luanda, Angola. His first release was in 2010, a collaboration with DJ Silyvi titled 'Canjika' on Pandora Records. His remixes and original tracks include gained support from international DJs such as Louie Vega among others. More tracks are released: 'Tambuleno', 'Malembe', 'Sikama' (NULU Records); 'Nawe' (Soulgasm Music); 'Mwini' (Offering Records), 'Rollin My Way' and his acclaimed debut album 'Soldier Ascension' in 2013 (Tribe Records). In 2011 DJeff launched his his own lane, Kazukuta Records – a new home for his music, for new African talents, but also the first electronic music label of it's kind from Angola.
R.O.N.N aka (Ron Carroll), is a Chicago based Writer, Producer, Singer and well respected DJ, and is known throughout the global music circuit. Since his beginnings as a vocalist Ron Carroll wrote and sung on many major singles: 'Lucky Star' with SuperFunk, 'What A Wonderful World' with Bob Sinclar & Axwell, 'Back Together' with Hardsoul, 'Everybody Movin' with Bob Sinclar, 'Tribute' with Bob Sinclar, You Used Me' with Goodwill, and many more!