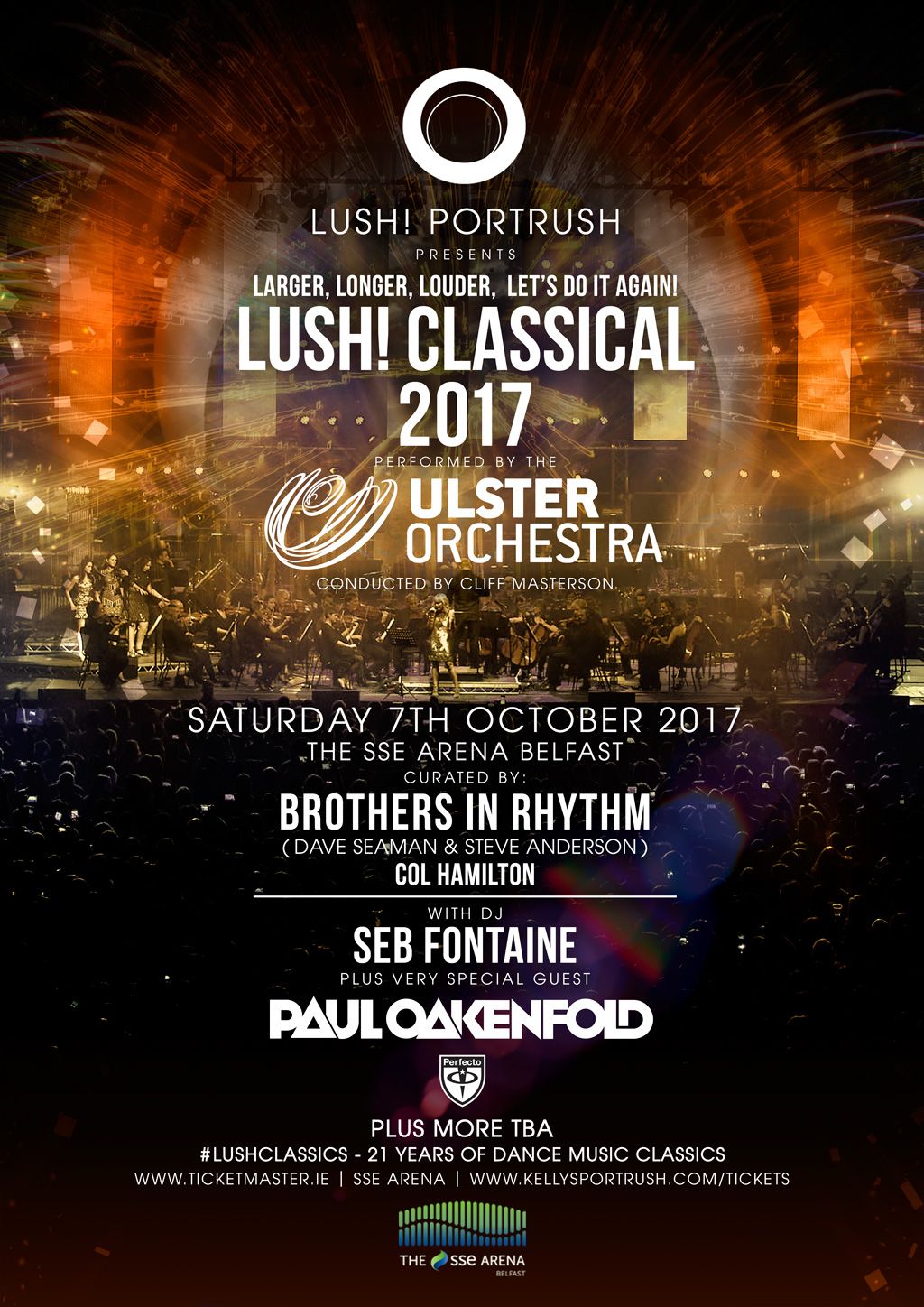 Lush! Classical Sse Arena Belfast
Lush! Twenty-One –Dance Music Classics performed by the Ulster Orchestra On Sat 7th October 2017
October 2016 saw one of the most spectacular classical dance events ever held in Northern Ireland.
A phenomenal, first-of-its-kind event featuring a 75-piece classical orchestra, world-renowned DJ's and live vocalists playing floor fillers from the past 20 years all produced by Kylie Minogue's musical director….and the result was simply out of this world.
A sell-out gig with over 5,000 people aged 18 to 65 brought together, in an electric atmosphere dancing the night away to songs like Such a Good Feeling, Insomnia, and Another Chance.
And guess what? They have just confirmed that they are doing it all over again!
Saturday 7th October 2017 has been confirmed as the date for Lush 21 – a night of Dance Music Classics performed by the Ulster Orchestra – the difference being that this time it promises to be 'longer, louder, larger and even more sensational than before.'
Col Hamilton, co-founder of Lush explains: "Lush! 20 was the most phenomenal event I have ever had the pleasure of organising in my 25 year career. The feedback was simply out of this world.
"We had people fly in from all over the world for this event and so many people asking when the next date was. This was meant to be a one-off show to celebrate the 20th anniversary of Lush! Nightclub – a true institution in Northern Ireland. But it was so incredibly successful in every sense of the word that we couldn't fail to do it one more time. We have even been asked to take the entire show on tour – to the UK and even Ibiza!"
"Lush 21 will be even more spectacular. We have taken the entire SSE Arena – seated and standing, equating to a further 4,000 tickets. We will have a bigger sound system, longer sets, and more staff on the bars – the SSE Arena said it was the biggest bar takings the venue had seen all year.
"And the best bit is that we have just signed world-renowned DJ legend, Paul Oakenfold to headline the event."
https://www1.ticketmaster.co.uk/lush-classical-belfast-07-10-2017/event/3800517AD30B0FDE?artistid=5215689&majorcatid=10001&minorcatid=201