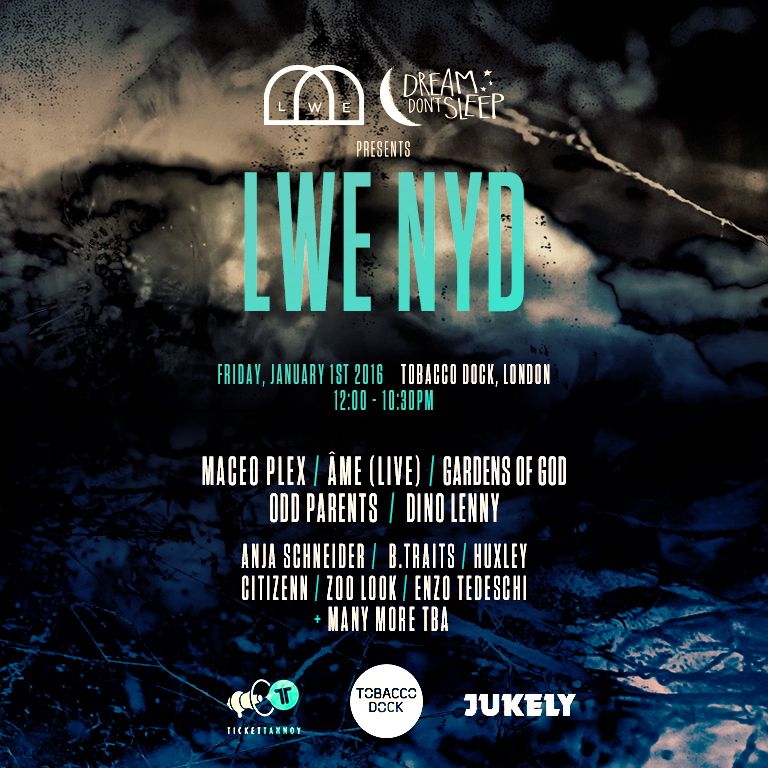 LWE NYD 2016
16 frames of images per second creates a moving image, there are 16 bars in a lot of your favourite songs, 16 mm film in your movies and 16bit created the most iconic video game characters. The number 16 is surrounded by creativity, symbolising great change and evolution. Energised by the number, we're going to make LWE NYD 2016 the best one yet.
The century comes of age hitting the sweet-sixteenth year, so those New Year's resolutions can wait a little longer. Bringing futuristic production that's built on inspirations of the past, we've selected a line-up that is built around a similar ethos.
Following on from the hype of 2014 & 2015 we're expecting LWE NYD 2016 to hit a new level for LWE!
We are excited to announce Maceo Plex and his Dream Don't Sleep concept to headline The Great gallery with very special guests Âme bringing their remarkable live showcase. We welcome back LWE favourite Anja Schneider who has been our Tobacco Dock resident this year to play an extended set in the car park, no doubt she will create many more of the magic moments that we have come to expect. First phase of the line up below:
1: Dream, Don't Sleep
Maceo Plex
Âme
Gardens Of God
Dino Lenny
Odd Parents
Plus:
Anja Schneider
B.Traits
Huxley
Citizenn
Ejeca
Zoo Look
Enzo Tedeschi