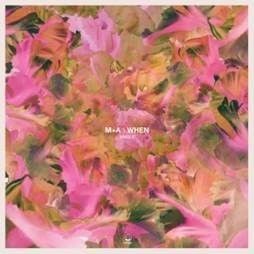 M+A – WHEN
'When' is the new single from Italian electro-pop duo M+A, set for release on 4th August via MonotremeRecords and taken from last years 'These Days.' Released in September, the album cleverly combines sunny, European dance-pop and laid back electronic vibes with a soulful twist. Hook-laden opener 'When' is the perfect antidote to the English Summer and showcases the pair's trademark sound. The single has also been given the deluxe remix treatment it deserves, with mysterious London trio Is Tropical and fellow ItaliansAatlas providing their own re-works of the original. Album track 'Practical Friday' adds a retro 80's vibe.

'These Days' is a consistently interesting album, a euphoric slice of electronic pop with a rare soulfulness and fluidity. Vocalist Michele Ducci's heartfelt musings are reminiscent of a young Thomas Mars of Phoenix, and combined with Alessandro Degli Angioli's delicate instrumentation, create a myriad of ideas with a real deftness of touch. Their sophisticated approach hasn't gone unnoticed, and their live show has gone from strength to strength since they formed in 2011. Luckily Michael and Emily Eavis were suitably impressed, naming the band as winners of Glastonbury Festival's Emerging Talent Competition and securing them a slot on one of the main stages at this year's event.

'When' is due for release on 4th August through Monotreme Records and the band play Camden's The Monarch on June 25th prior to their trio of performances at Glastonbury Festival. Further details below.
Track Listing
When
When – Is Tropical Remix
When – Aatlas Remix
Practical Friday (radio edit)

Live Dates
23rd June – The Cellar, Oxford
25th June – The Monarch, Camden
28th June – Glastonbury Festival, West Holts backstage
29th June – Glastonbury Festival, West Holts Main Stage
29th June – Glastonbury Festival, Rabbit Hole Stage
10th August – Y-Not Festival, Derbyshire
29th August – Brownstock Festival, Essex