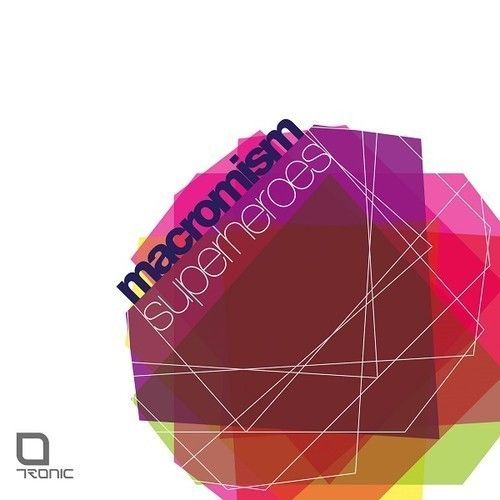 Macromism – Superheroes LP
They may be young but the artistic union between Mattia Saviolo and Eugenio Zampieri from Padova, Italy is super-strong. Since Macromism's hot summer single ("What'Z Up") on Christian Smith's superlative Tronic label, these two fiery newcomers have been tirelessly forging their first cohesive body of work that now appears in the form of the ambitious "Superheroes".
The album's Techno backbone references Macromism's well-known early minimal influences whilst maintaining an urgent, youthful energy, entirely appropriate for a debut long-player. The inclusion of deeper, experimental works will no doubt win the approval of cutting-edge Tech-House aficionados everywhere.
Their less-is-more attitude allows every element of each track to breathe effectively. The infectious mutant vocalised percussive funk of "Wall To Wall" is juxtaposed with the monstrous low-slung mesmeric groove-train that is "Stars 'n' Stripes", and interspersed with the stuttering snare-rolls of "Over The Moon".
The album is bookended by the bold experimental electronic soundscapes of "Water Synergy" and "Ring Down The Curtain", a theme that is developed within the edgy groove patterns of the ferocious "Left, Hand, Back" and the sparse off-kilter attitude of "D for Dream".
The spacious throb and high tensile hearts of "Bagul" and "Take Control" sit comfortably alongside with the booming bass and spiralling efx of "Gabor" and "Apasii", while as the pace peaks with the jittery tension of "Inception" raising the album's powerful pulse. Add in some futuristic, twisted, electronic-disco-styling on "Oh Yesss", and you have an incredibly intriguing selection of electronic gems from two of Italy's most exciting young prospects for the future.
"Superheroes" has a mighty heart, an incredible attitude and a solid soul. The fact this album has been created by two, young, super-talented DJ/producers indicates that the future of exciting electronic music is in safe hands with the upcoming new generation.
Further information:
http://tronicmusic.com
http://www.beatport.com/label/tronic/12576
https://www.facebook.com/officialchristiansmith